By Stephen Arves and Meghan Greene
In recent months, there has been renewed interest in overdraft fees and the burden they can place on consumers, spurred on by increased attention on financial inequality during the pandemic, pressure from several elected representatives, and a flurry of media. Now, numerous banks and credit unions are exploring ways of restructuring their overdraft programs, developing overdraft alternatives, or ending overdraft altogether. Meanwhile, overdraft has generated renewed attention from the Office of the Comptroller of the Currency (OCC).  
Information on overdraft profiles is old and limited – the most recent data from the Consumer Financial Protection Bureau (CFPB) are nearly 10 years old. The Financial Health Network executed a deep dive into FinHealth Spend Report data from late 2020 to learn how customers are using overdraft today amidst the pandemic. Our results offer fresh answers to some of the key questions regarding overdraft usage: 
How common is overdraft?

Who is overdrafting?

What other products are overdrafters using?
How Common Is Overdraft?
Sixteen percent of households with checking accounts reported having overdrafted at least once in 2020. For many of these households, overdraft fees are an infrequent occurrence. Nearly half of all overdrafting households report two or fewer overdrafts in a year. About a quarter (28%) report between three and five overdrafts.  
For others, though, overdrafts are a persistent issue, resulting in hundreds of dollars in fees a year ​​– despite the overdraft fee waivers that many banks and credit unions offered in 2020. About a quarter of overdrafting households report more than five overdrafts in a year, and 8% report more than 10. A 2017 CFPB study leveraging transactional data suggests that this self-reported data may in fact underreport the true costs of frequent overdrafts, with 5% of all accounts analyzed showing more than 20 overdrafts per year.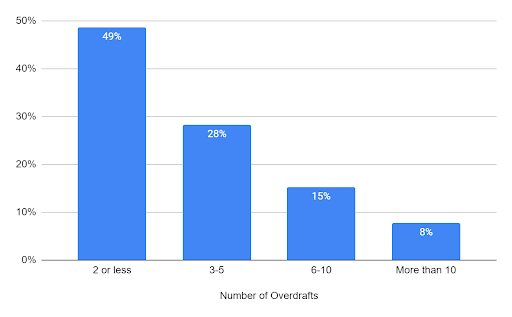 Who Is Overdrafting?  
In our FinHealth Spend Report 2021, we found that, among households with checking accounts, low- to moderate-income households were nearly twice as likely to overdraft than higher-income households. Black and Latinx households with accounts were also far more likely to report having overdrafted than White households (1.9 times as likely and 1.4 times as likely, respectively), contributing to the disproportionate financial costs borne by people of color. 
Additionally, we found that young people with checking accounts are more likely to overdraft than older people with accounts: 35% of those aged 18-25 had overdrafted, compared with just 7% of those 65 and older. 
Furthermore, overdrafters are far more likely to have nonprime credit scores. Thirty-three percent of checking account holders with nonprime credit scores have overdrafted, compared with only 10% of those with prime credit scores. Among households with more than five overdrafts in a year, 80% don't have prime credit. 
What Other Products Are Overdrafters Using? 
For a more complete understanding of overdrafters' financial lives, we analyzed reported usage of a range of products and services, finding significant differences between households that overdraft and those that do not. Compared to non-overdrafters, households that overdraft are:
Nearly three times as likely to report being charged a maintenance fee for checking accounts

(36% of overdrafters report paying a maintenance fee vs. 13% of non-overdrafters). 

Nearly twice as likely to have federal student loans.

Overdrafters are 1.8 times as likely to have federal student loans.

1.7 times more likely to report carrying a balance

on a general purpose credit card, with a whopping 83% of overdrafters reporting a credit card balance. 

Far more likely to turn to alternative financial services

, including much greater likelihood of using payday advances (13% vs. 2%) and more than four times as likely to use pawn services (9% vs. 2%). 
Whether an individual overdrafts once a year or 20 times, it's clear that overdraft policies at large are impacting people of color more than White households, young people more than older people, and the Financially Vulnerable more than the Financially Healthy. Overdrafters are also subsidizing the cost of delivering banking services to more financially secure customers ​​– through both overdraft fees and maintenance fees – while turning more frequently to high-cost credit in their own lives.  
The Financial Health Network works with financial institutions to consider the impact overdraft has on the lives of their customers and to explore opportunities for them to develop, launch, and evaluate alternatives. To read more about overdraft, click here or reach out to us if you're interested in learning more. 
---
1. Data were collected via a nationally representative survey of 4,090 decision-makers on household finances in November 2020.
2. The 2021 Financial Health Pulse® survey found that 19% of respondents had overdrafted in the prior 12 months and another 3% did not know the frequency.
3. In the 2017 CFPB report on frequent overdrafters, researchers found that approximately 33% of accounts had overdrafted. Our data are not directly comparable to the CFPB because it analyzed the percentage of accounts, whereas we used the household as our unit of measurement. We also utilized survey data, while the CFPB leveraged credit record data joined with transaction- and account-level data from several large banks. Finally, our survey was conducted in 2020, when many institutions waived overdraft upon request. However, the differences in our data suggest that households that overdraft could potentially be overdrafting across several accounts in a given year.
4. This aligns with the CFPB's 2014 paper on overdraft by age.