By Andy Bandyopadhyay, Head of Product, and Warren Dailey, Staff Accountant, Financial Health Network 
As queer employees of the Financial Health Network, we are lucky to work at an organization that celebrates us and our families. But it's not just about our experience in the workplace — our organization exists to improve financial health for all. So during Pride Month, we dug into new data from our Financial Health Pulse® research to understand the unique challenges that queer people across the U.S. face in their financial lives.
The Financial Health Pulse is a yearly survey that looks at financial health across the indicators of spending, saving, borrowing, and planning. This data gives insights into what is needed for Americans to be resilient and pursue opportunities over time, and also allows us to see disparities along different demographic dimensions, such as income, race, ethnicity, gender, and age. This year, for the first time, we included questions in the survey on sexual orientation, gender identity, and transgender status. These new questions allowed us to analyze the financial health of people who identify as nonbinary, gender-nonconforming, genderqueer, transgender, homosexual, gay, lesbian, bisexual, pansexual, queer, asexual, or some other gender or sexual identity, whom we will refer to as LGBTQ+ moving forward.
Our findings showed that LGBTQ+ people in America were less financially healthy, more stressed about their finances, and more likely to have experienced food, housing, and healthcare insecurity when compared to their non-LGBTQ+ peers. In our analysis, this is true even when holding household income constant.
LGBTQ+ people were 31% more likely to be financially vulnerable and 20% less likely to be financially healthy in comparison to non-LGBTQ+ people. The disparities in overall financial health show us that we have a long way to go in supporting the financial lives of LGBTQ+ people in America.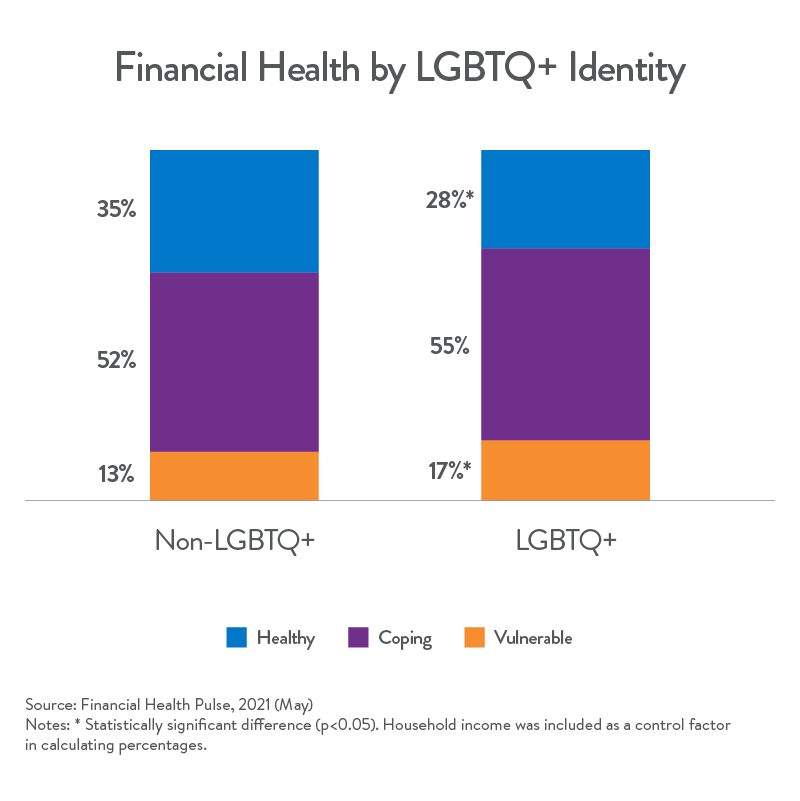 When people aren't financially healthy, they get stressed. The American Psychological Association's annual Stress in America Report revealed financial concerns to be one of the top sources of stress, a resurfacing theme throughout the report and across most groups. The economic turmoil of the pandemic has made this stress worse, particularly for LGBTQ+ people. The Kaiser Family Foundation found that LGBTQ+ people were more likely to experience financial stress related to COVID-19, and our Pulse data is consistent with those findings. We found that LGBTQ+ people were 36% more likely to report high or moderate stress related to the pandemic than non-LGBTQ+ people.
Financial hardships lead to stress, which takes a toll on the body. Worrying about whether you'll be able to eat until your next paycheck arrives is taxing, both physically and emotionally. We found that LGBTQ+ people were 32% more likely to worry than non-LGBTQ+ people about whether their food would run out before they could afford more. Then, it is no surprise that LGBTQ+ people were more likely to experience food insecurity, an issue that has been exacerbated by the pandemic.
Having trouble making rent payments puts people at risk of being on the street. Our data showed that LGBTQ+ people were 30% more likely to have trouble paying their rent or mortgage than non-LGBTQ+ people. The housing insecurity that LGBTQ+ people have experienced during the pandemic impacted younger LGBTQ+ people in particular. According to the Williams Institute at UCLA School of Law, one-third of LGBTQ+ college students experienced housing disruption during the COVID-19 pandemic, significantly reducing their chances of pursuing their studies. It is also important to note that queer and trans people must be extra selective when choosing a shelter since some shelters may deny them entry. Other shelters may let queer and trans people in, but harass them so much that they vow to never step foot in that place again.
Skipping doctor's appointments and prescriptions because you can't afford the copay can make medical issues worse. We found that LGBTQ+ people were 48% more likely to indicate that they did not receive necessary healthcare and 50% more likely to indicate that they did not receive necessary medicines than non-LGBTQ+ people. Many states still do not have laws prohibiting health insurance discrimination based on sexual and gender identity. As a result, trans people are at higher risk for having no private or public health insurance. Add up all those factors, and you have a recipe for instability today and tomorrow.
At the Financial Health Network, we are working to improve financial health for all. We want to create a future where everyone in America spends, saves, borrows, and plans in a way that secures a roof over their head, puts food on the table, and provides access to medical care, today and tomorrow.
It all starts with measuring the financial health of your customers and employees to understand where they need support. From there, you can develop a roadmap for your organization to increase the impact on the financial health of those you serve. We have developed the FinHealth MAP exactly for this purpose.
We are proud to expand the lens of our analysis of financial health to include queer Americans. We hope that these findings spark conversations about what your organization can do to better serve your LGBTQ+ stakeholders. To explore more findings from the Financial Health Pulse, visit finhealthnetwork.org/pulse.
Methodology
The findings presented in this brief are based on data from a survey fielded online to members of the University of Southern California's "Understanding America Study" consumer panel from April 22 to May 25, 2021 (n = 6,275). Survey data have been weighted to be nationally representative. The survey instrument and full data set can be downloaded here.