EMERGE Everywhere
Shamina Singh: The Quest for an Equitable Future
In this episode of EMERGE Everywhere, Jennifer sits down with Shamina Singh, Founder and President of the Mastercard Center for Inclusive Growth, to explore her fascinating career from politics to the private sector. Shamina discusses her quest for a more sustainable and equitable future, and how she's developing solutions to make the global economy work for everyone.
Wednesday, March 23, 2022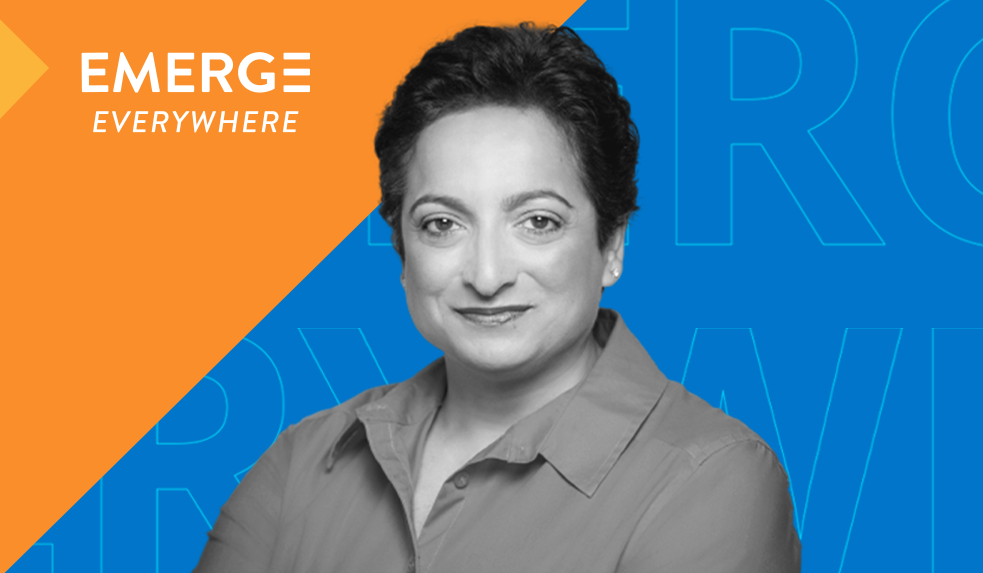 Shamina Singh
For over 20 years, Shamina Singh has been on the front lines of developing and implementing solutions to make the global economy work for everyone, everywhere. She is the Founder and President of the Center for Inclusive Growth, Mastercard's philanthropic hub, as well as the organization's Executive Vice President of Corporate Sustainability. In both these capacities, Shamina is charged with activating the philanthropic dollars of the Mastercard Impact Fund, a $500 million pool of capital committed to advancing inclusive growth around the world. Prior to joining Mastercard, Shamina led government and public affairs for Nike and global community development at Citi. Shamina has also held senior positions in the White House and the U.S. House of Representatives. 
Learn more about Mastercard Center for Inclusive Growth and check out additional episodes of EMERGE Everywhere.
Episode Transcript
Jennifer Tescher:
My guest today, Shamina Singh, is the Executive Vice President of Corporate Sustainability at Mastercard and she's also the founder of the company's Center for Inclusive Growth. For much of her career, Shamina has been a leader of the global financial inclusion movement, where her unique ability to forge public-private partnerships has produced big results. She is now focused on bringing the government and the private sector together to create a financial inclusion commission in the United States. 
Shamina, welcome to EMERGE Everywhere.
Shamina Singh:
Really glad to be here, Jen. Great to see you.
Jennifer Tescher:
Yeah, same here. So you founded the MasterCard Center for Inclusive Growth back in 2014, it feels like a long time ago already, as a way to drive the company's social impact. Talk to us a little bit about what does the center do? And why did MasterCard decide to create this in the first place?
Shamina Singh:
Well, again, thanks for having me on. It's always a pleasure to be with you and talk about financial health with the founder of the Financial Health Network. What an honor for me. So we founded the Center for Inclusive Growth at the end of 2013, beginning of 2014, mostly because we had to. I originally joined MasterCard to digitize social subsidy programs from government. And in the process of doing that work, started to see that the lessons we were learning, sort of on the front lines of financial inclusion, weren't being taken up anywhere else. And so we sort of went to the leadership of the company and, actually, to the MasterCard board and shared some of the things we were finding through these government digital subsidy programs. And they actually said, "Why don't we create something that allows you to process the learnings, categorize them, catalog them, and be a place that people don't have to reinvent the wheel that want to do this work?"
And so really, it became a lesson and a practice of necessity for us, because we really wanted to make sure that as the world sort of went further on into financial inclusion than we even were at that point, that they were not going to have to reinvent the wheel, especially I think private sector companies, who were just getting into the space, obviously following people like you and public sector organizations, who had had financial inclusion as part of their thinking for a long time. And just knowing what I know now about companies like MasterCard and others, it's important to be as efficient as you can when doing any of this. So that was really the founding story of the center.
Jennifer Tescher:
Huh. And so the center does a lot of different things today. Tell us a little bit more about that.
Shamina Singh:
It's, I think, a really interesting model. We've evolved since 2014 from that place of really starting out as research, but building on the idea that you really want to start from an evidence base for any work you're doing. So the shorthand is, we really think of ourselves as the philanthropic hub of the company. But we have a model of doing this work that relies on insights. So in evidence base and research, it relies on impact. So we go to programmatic work. And we now have the MasterCard Impact Fund that actually funds a lot of that work. We have impact and insights to impact to influence. And so this is this piece around once we build the evidence base, we invest in some programs, we continue to learn and scale, we want to make sure again, that people don't have to reinvent the wheel, so we call it influence, which is we do convene.
We try to talk to people like you. We try to publish to make sure that we are influencing the dialogue and the conversation around this work through investments. And so it's a lot of it. But the basic notion is to really make sure that we're advancing action on inclusive growth. And that's the piece that, I think, differentiates us a little bit. I think everybody wants to make a difference and have action, but we really try to be very disciplined in our approach and are constantly pushing ourselves and asking the question of, so what? And by asking ourselves, so what, almost in every conversation, we get to a place of, what is the action? What's the impact? What's the outcome?
Jennifer Tescher:
Yeah, it makes so much sense for a company like MasterCard, which is ultimately a technology company, a payments company, to think about extending that capability to improve inclusion and improve the situation in the world. We're seeing a lot more commitment to ESG from companies of all sizes. And on the surface, the promises are great. But the question becomes, how do we ensure that there's real impact and that the impact is hitting the communities and the people who need it most? I'd love to hear you reflect on how you're thinking about that at MasterCard, particularly given the way in which you are best able to give back or to engage isn't always the things that people most think about, like feeding the hungry, or housing the homeless. It's more nuanced than that.
Shamina Singh:
Yeah. I mean, it's a great question. And it's also a reason why we started the Center for Inclusive Growth was our remit is really to leverage the assets of MasterCard for social and environmental impact. What does that mean? That means that in addition to capital, so traditional philanthropy, which is sort of what many companies have done for forever, we really took a different approach and said, "We have to actually the assets of MasterCard in a way that will allow us to make the biggest difference and have the biggest impact." And that's where we sort of said, "Okay, that means data and data analytics. It certainly means capital. It means the technology. It also means our network. The fact that MasterCard is in over 210 economies with billions of cardholders transacting trillions of dollars, that network was a major asset for the company as well. And then our people, of course, and the expertise."
And once we sort of looked at it from that perspective, certainly the philanthropy and the capital and the creation of the Impact Fund has been an enormous enabler and accelerator, but it's allowed us to target our interventions in a way that, for us, I think are more meaningful, but also for the world, more impactful. And I think that's the piece that as companies start to do this ESG work, I sort of think, start with the things that are in some respects, easiest to your company and much more aligned with the capability of your company so that you achieve that comfort around doing the work in a way that actually makes a difference. And then, of course, you have to measure it and report it and all of those things. But that's sort of been our journey, I think.
Jennifer Tescher:
Yeah, that makes a lot of sense. You've mentioned it a couple of times now, just what an incredible remit you have given the global footprint of MasterCard. I'm curious though, how does the work play out in the United States? And you and I know each other for a long time, largely because of global conversations around financial inclusion. When you come to a country like the United States that journey's a little bit different, I think. Or maybe it isn't. Maybe it's exactly the same. Tell me more about how you're thinking about how this work plays out here in the U.S.
Shamina Singh:
Yeah. Again, I think it's such a great question. I'll say that when we first started this journey around financial inclusion for MasterCard with folks like the UN and others and Queenax of the Netherlands, we made a commitment fairly early on to bring 500 million people into the formal economy. We reached that goal actually during COVID and decided to double down. And we upped our commitment to bring a billion people into the former economy, with a focus on small business, particularly women-owned businesses. And when we were doing all of that work, one of the things that we realized, also fairly early on, is that the lessons we were learning outside of the United States actually had a lot of relevance inside the United States. So the idea of gig workers, relatively new in the United States, but not new everywhere else in the world in terms of Asia, multiple jobs, and things like that.
So the idea of trying to understand what a portable benefit system would look like in the United States was something that we started working on here. But I'll tell you the thing that I think has been absent from the conversation is this notion of a national financial inclusion strategy for the United States. Jen, as you do know, in many parts of the world, many countries have financial inclusion strategies that they have drafted, that they are working towards, that they have policy around, that they work with private sector company around. And it's this idea of having a plan that you can reach your targets. You can think about women. You can think about the folks who need access to formal financial services. The United States actually doesn't have a formalized national financial inclusion strategy.
And so I think that's one of the things that I know you care a lot about, but it's certainly something that I think would really help accelerate and focus the solutions around what's happening in the United States when it comes to things like certainly income inequality, but access to financial services, access to financial education, access to really allowing Americans to reach their productivity. So I think for me, at least, and I'd be interested in your perspective, this notion of creating a national financial inclusion strategy so that we build some structure, a plan, and a focus to accelerate our advancement, even in the United States around financial services.
Jennifer Tescher:
Yeah, well you know me. I'm all about what gets measured gets managed. So the idea of having a framework of some kind that helps shape the role that the federal government can play here and holds us accountable, I think is always a good thing. What's so interesting to me though, is if I'm not mistaken, we're one of the only G20 countries that doesn't have a national financial inclusion strategy. And I think one of the other benefits or opportunities of us doing so is the influence on the world stage. There are countries who are far ahead of us in this work. So I don't mean to suggest that we don't have things to learn from others.
But particularly, when you're thinking about it from a systemic approach and creating, frankly, the global systems that are needed to connect the dots and enable people to have full inclusion around the world, I think when the United States speaks a lot of people listen. And so I think there's also sort of a competitiveness and global leadership opportunity for the United States if we were to create a commission.
Shamina Singh:
I agree. Yeah. And I think the commission is probably the straightest path to get there, because I think what it would allow us to do is really focus on again, getting our own house in order, the federal agencies sort of lining up to say, "What did they have within their own inventory of things they should be doing?" So much of this work, I think, is because we have fragmented systems. And we saw this during COVID. I mean, one technology system didn't talk to another technology system, didn't talk to another technology system, which meant in the end, the people who really needed the help, weren't getting it in time, or weren't getting it nearly as fast or as efficiently as they could, because of a technology situation, which in my mind is, does such a disservice to our own people in the country.
But I think that we're at this really interesting time when we're experiencing all of this inequality, I think, in the United States and frankly, around the world. But we also have this amazing technology, this technological revolution that is also happening between AI, and machine learning, and blockchain, all of these really great, fancy things. But all of these people are still just now becoming included into the formal economy. We've often said, "You can't really have the internet of everything without the inclusion of everyone." And I think that that's kind of where we end up or we land is, let's make sure that we're using all the technology to work for us, not against us.
And I think that's the work of people like you, Jen, and the Financial Health Network. It's in the work of us at the Center for Inclusive Growth. It's the work of other purpose-driven leaders, and companies, and other organizations to ensure that the benefits of an expanding economy are delivered to everyone. And, I thinks, that at our core, that's the thing that we're trying to do here.
Jennifer Tescher:
Yeah. I think that's well said. Now, you'd never know from everything you've said so far, that you weren't a deep technical payments expert. But the fact is, you started your career in politics, if I'm not mistaken, working on a gubernatorial election in Texas. And then you held some roles in the federal government. Tell us more about sort of how you got from there to here and really, what you learned from that experience of, if you will, kitchen table politics.
Shamina Singh:
Yeah. In college actually, before I even moved to Texas, I worked for the first African American governor of the state of Virginia, a guy named Doug Wilder. So the political organizing and social justice work has been something that's sort of been part and parcel of my own experience. And I think that that comes out of being the daughter of immigrants. And I think that for me, this has all been about real-life stuff. It's not a theory. It's not something that's removed. It's the work that I've seen, and the way I was raised, and where I was raised, and I'm all of that because I've been in situations where this stuff is about life and death. So financial health, economic empowerment, access to good wages, a living way age, all of these things are real for me.
And so I think for me, the first entry point was around political organizing and political power. And then sort of continuing that work, but also then making the connection to economic independence, and economic empowerment, and understanding the connection between public sector work and the role that policy plays and private sector work and the role that industry plays in ensuring that you got to have both along with a very strong social sector in order to ensure that the individual reaches his or her full capacity. So the technology and the technical stuff certainly has come as I've been at MasterCard. But it's come out again, sort of trying to understand the various levers of influence to make sure that people live their best lives. And that's kind of why I'm motivated to do the work.
Jennifer Tescher:
Yeah. So one of my big heroes is Bryan Stevenson from the Equal Justice Initiative. And one thing that he always talks about is the need to be proximate. And even as an organization like ours, we don't do direct service work. We're working with companies and organizations and getting them to do more and better. I know we have to work hard to stay proximate, to find opportunities, to really understand what's going on in people's lives. It's one of the reasons why we do as much consumer research as we do. Given the role that you're in now, how do you stay proximate? How do you make sure that you're being informed by real life, as you say?
Shamina Singh:
Yeah. It's funny, we've been doing the work at MasterCard around financial inclusion for a long time. But one of the things that we uncovered early on in our own journey was the necessity of ID. That was a surprise to me, was that when somebody accesses a bank account, or when somebody buys a travel ticket or all the things that we take for granted, that at the time, there are still millions of people in the world that don't even have a basic identification. So they cannot transact at all, because they don't have a driver's license, or an ID card, or something that says, "I am Shamina Singh, so I can transact in the world." And that was a, it was a surprise, I guess, at MasterCard. But then I was telling my mother about it.
And I was saying, "I'm so surprised that we're building these identity solutions now because MasterCard has realized that people need an ID. So we're building out distributed ID and what does that mean, and all of these things." She said, "That's so funny." She said, "I was born without a birth certificate. So I didn't have ID for a long time until I went to college." I was like, "What are you talking about?" She was born into a small village in India. And when she was growing up, the way that they kept the birthdays was literally her mother would tie a knot in a rope. And that was the way that they knew how old you were, basically.
It was very like, "Okay!" I was one generation removed. My mother did not have ID until later in life. And her birth was tracked by a knot in a rope. And so was her sister and so were others. And so it just became very real for me in terms of what this work was doing. And what an amazing world that we live in that my mother from a small village in India to sort of me sitting here talking to you today, one generation, what that's meant. To me, it keeps me very humble, but also really grateful for the opportunity.
Jennifer Tescher:
What an incredible story. I'm now beginning to understand that the combination of your sort of time in politics, where you really need to understand the constituents of the person you're working for, coupled with your time now in the private sector really gives you an interesting worldview. But you're very good at building those public-private partnerships, thinking about how to bring people together in relationship. Talk to me a little bit about why they're so important for this work in particular. And what's your secret for doing it? How do you so successful in bringing those kinds of partnerships together?
Shamina Singh:
Well, I appreciate you saying that. I think that the thing people miss out on is while they're judging each other, they miss out on the opportunity to actually work together. And so that was, I think, one lesson maybe. I don't know what to attribute it to. But I think maybe being the daughter of immigrants, where I wasn't raised to understand the social norms in a way that maybe people who are here for generations have. And so we were discovering them in real-time. I think the gift of that is you don't know what's possible, but you don't know what's impossible. And you don't really judge. I mean, I was curious.
And so I think that how that translates into partnership is to really look at it as sort of objectively as you can and say, "What are the assets of one organization, one individual, one company? What are the assets of another organization, individual and company? How can we marry up these assets in a way that creates something bigger?" And so I think that very basic notion of how do you put things together in a way to equal something bigger is just a way of organizing that, I think, serves all of us better. But when it comes to public and private, it's the only way to achieve scale. In philanthropy, we talk a lot about this. Philanthropy is one part of capital, but it's not the capital set.
If you really want to make change, you have to combine philanthropic capital, maybe as the catalyst. But then you get into more commercially-sustainable work overtime so that when the philanthropy goes away, there's a business model in place to sustain. And one of the things that I learned, I think, I used to work with nursing home workers in Pennsylvania. I worked for an organization called the Service Employees International Union. And one of the things that I learned from mostly women, who were nursing home workers, was they didn't need me or anybody sort of telling them what to do with their money. They just needed the money, the capital, themselves.
And I think that really trying to understand that they have something that they need to do and give. We have something. If you bring it all together, there's a way to align incentives so that everybody wins. And I think that it may sound naive and it may be naive. I don't know. But it's the way that we have been operating. And so far, it seems to be yielding good results.
Jennifer Tescher:
We are living in challenging, uncertain times, where trust is at an all-time low. And yet these partnerships that you've talked about are needed more than ever. So what's on the horizon for you at the MasterCard Center for Inclusive Growth vis-à-vis these partnerships? And where do you see traction or opportunities given the moment we're living in now?
Shamina Singh:
I think it's a great question. I think it's a hard question. I think that what we saw during COVID was the first time in a long time that people slid back into poverty. We were named the Center for Inclusive Growth because we were actually on a cycle where the economies were growing and we were trying to ensure that people, their economic lives were improving along with the growth. I think with COVID, what we saw for the first time is now people have slid back into lower economic situations. And I think for us right now, what we're trying to do is ensure stabilization. And then if we can help with the stabilization, we can start to help with, again, that trajectory back into growth.
The opportunity, I think, though, that we have is to create, at least in the United States, I think to create a strategy. We talk about Building Back Better. We talk about all these things. The moment when we're coming back from COVID, hopefully, will never happen again. And so can we align the objectives and the incentives of purpose-driven private sector companies of public policy, of social sector organizations, so that we're coming back in a way that is more beneficial rather than less beneficial? And I think that requires some intentionality that we're working a lot on at the Center for Inclusive Growth.
And the last thing I'll say around that because I think it's important is that data is, you hear it all the time, data is the new this, data is the new that. We're trying to create the field of data science for social impact. We started on this journey very early on in the center's inception. But the idea that there are now data haves and data have nots among social sector organizations, among sectors, I think is an idea that I want to plant here. Hopefully, we can talk about it in more detail another time. But I do think data inequality is almost as important, if not more important, than income inequality. Because if you lose the capability to analyze data and understand data, you may lose a generation of understanding. And so we're spending a lot of time at the Center for Inclusive Growth really thinking about data for social impact and what we need to do to invest and intervene in that space.
Jennifer Tescher:
Say more. What can one do in that arena?
Shamina Singh:
Like I said very early in the conversation, one of the big assets of MasterCard and many companies, frankly, is data and data analytics. And we came out early on with a framework around how we think about data as an asset. And that framework, we call them the data responsibility principles, basically says that you should own your data. You should control your data. And you should benefit from your data. And that's the way we're building our products and services at MasterCard. What we've done sort of at the center side is we've created an organization and partnership with the Rockefeller Foundation called Data.org. And the idea there is to build out the social sector capacity, the data capacity of social sector organizations, to realize the power of their own data.
So we are creating use cases out of Data.org to really build a model so that social sector organizations like the Financial Health Network, like any other organizations, can sort of come to a place and say, "Hey, we need to get our data maturity assessment done. What do we need to build out our data capacity?" At the same time, we're also investing in talent, because there is such a pipeline of data scientists. It's so competitive. And we need to have more and more. But what they're not necessarily receiving is the training around data science for social impact. And so we're doing a lot of investment with universities to make sure that they're getting that training. And, for example, we just announced last week, a partnership with Howard University.
They've created a new data science center at Howard. And what we're doing is partnering with them to ensure that we invest in looking at bias in AI so that what we see around African Americans being excluded from financial services or the financial services biasing against minorities is something that we look at. But I think that's been an area that again, I hope to see more philanthropies get involved with, more companies start to realize that they have an obligation to think about their data in a different way, that people start to, we see it all the time, people have to understand that they have to own, and think about, and be responsible also for the data that they're producing.
Jennifer Tescher:
Right. Well, given that MasterCard is both a technology company and a data company in many ways, it's really remarkable to see the stance that you've taken in this work because it's one thing for a data company to think about how it should treat the data it has. But it's another to really be funding and supporting the development of a broader sector to encourage the appropriate use of data and to really take a customer-centric approach and state so unequivocally that people need to own and control their own data. That is not a universally held perspective. And so I give MasterCard and you a lot of credit for that.
Shamina Singh:
Thank you. No. This is part of the advice I had from our CEO at the time, Ajay Banga, who has now gone on to do other things. But when he was there, he said, "When you create the Center for Inclusive Growth try to move as fast as you can, so that as you create a framework for others to plug into you're creating the right incentives." He said, "Because, one, you could create a center that kind of does things the way it's always been done. And that would be kind of interesting. But if you create a policy or a program that creates competition for the right things, boy, wouldn't that be a really cool thing to figure out?"
And the pleasure that I've had working with Michael Miebach, who is the relatively new CEO, but he's been at MasterCard for a very long time, is that he thinks in a way that says, "Technology is neutral. And if we can create incentives around technology, and in this case, data, that incentivizes a race to the top instead of a race to the bottom, then why wouldn't we do that?" And I think that's the freedom and the flexibility that if you get into a place, a creative space, an innovative space that sort of relies on inclusive innovation with a CEO like Michael, you can sort of have this kind of runway to think in this way. Hopefully, it's a novel way. But hopefully, it won't be the only way. And I hope that a lot more companies start to think this way.
Jennifer Tescher:
Yeah. Shamina Singh, thank you for joining me on EMERGE Everywhere.
Shamina Singh:
Thanks for having me. Thank you so much.