EMERGE Everywhere
Roger Hochschild: Discover the Possibilities
In 1986, Discover introduced the concept of cashback rewards on a credit card with no annual fee, transforming the landscape of credit for good. No longer reserved for the privileged few, credit cards became an everyday tool in most wallets. In this episode, Jennifer sits down with Discover CEO and President Roger Hochschild to dig into his passion for helping the underserved. Find out how his company is backing its words with action to drive real social change and bring about a better future.
Wednesday, April 21, 2021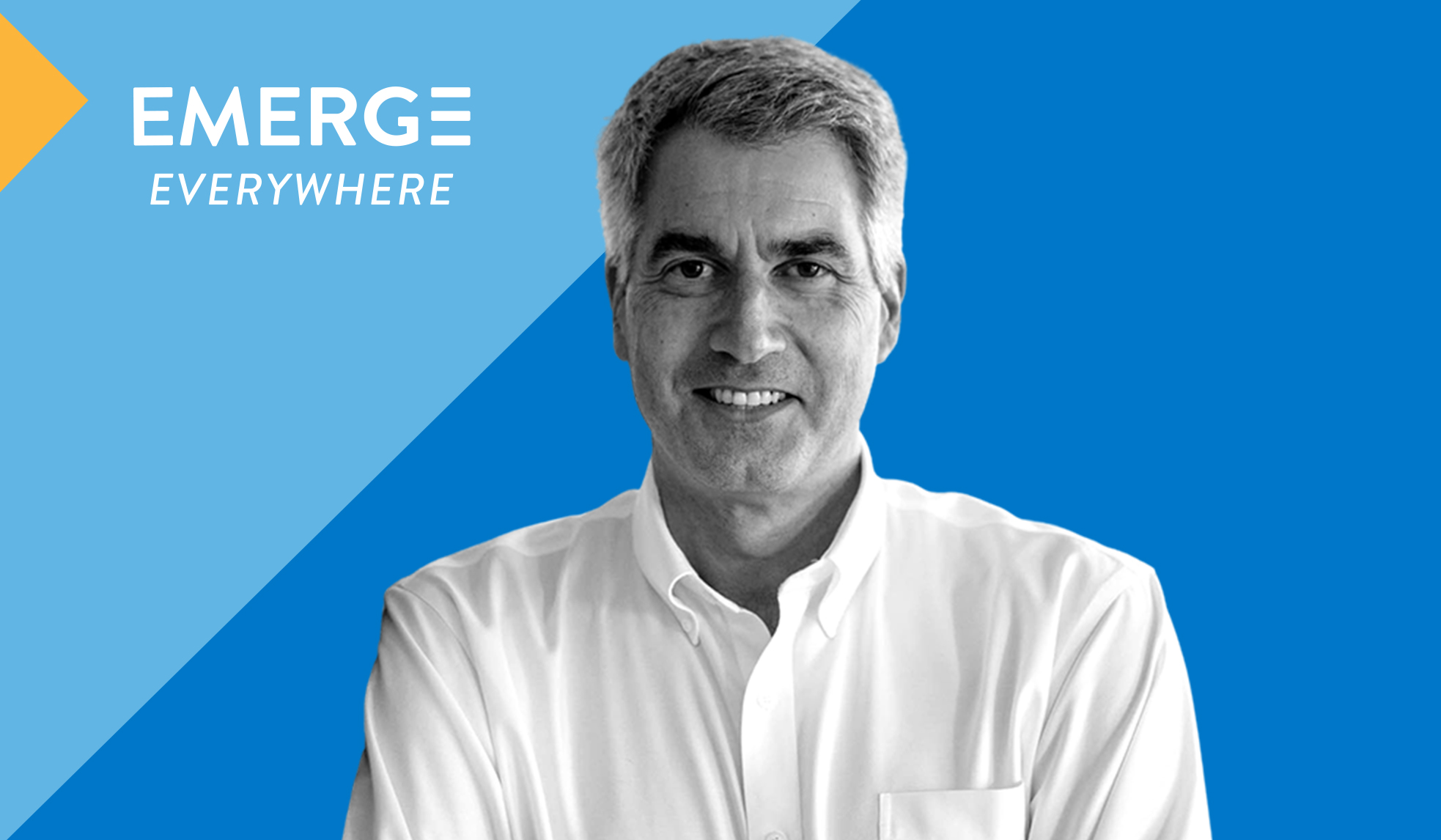 Roger Hochschild
Roger Hochschild is CEO and President of Discover. He is responsible for all company operations, including Discover's direct banking services: credit cards, loans and deposit products; and the Discover Global Network. Roger joined Discover in 1998. Prior to assuming responsibilities as President and Chief Operating Officer in 2004, he was Chief Administrative and Strategic Officer of Morgan Stanley, Discover's then parent company, for three years. Before coming to Discover, Roger worked for MBNA America and the consulting firm Booz-Allen & Hamilton. He holds a bachelor's degree in economics from Georgetown University and an MBA from the Tuck School of Business at Dartmouth College.
Learn more about Discover and check out additional episodes of EMERGE Everywhere.
Episode Transcript
Jennifer Tescher:
Welcome to EMERGE Everywhere. I'm Jennifer Tescher, journalist turned financial health champion. As founder and CEO of the Financial Health Network, I've spent my career breaking down silos by engaging with innovators across industries, and now, I'm sharing those conversations with you. Meet the forward thinking leaders challenging the status quo and unleashing creative new ways of improving financial health by seeing their customers, employees, and communities in 3D.
My guest today, Roger Hochschild, represents a new breed of CEO – one who is invested not only in their company's success, but also in the health and stability of our broader society. Roger is only the 2nd CEO of Discover Financial in the last 20 years. The company helped democratize access to credit cards back in 1986 when it debuted a card with no annual fee. Roger embodies this legacy of inclusivity in both word and deed. His latest example: Discover's Invest in a new call center in a lower-income Black community on the South Side of Chicago.
Roger, welcome to EMERGE Everywhere.
Roger Hochschild:
Thanks, it's great to be here.
Jennifer Tescher:
So I reached out to you to invite you to come on this podcast as soon as I heard about the decision that you and the company made to open a call center on the south side of Chicago, an investment that could bring nearly a thousand jobs to what is a largely black community. The unemployment rate of south siders is double that of the more affluent north side. And COVID has really accentuated the stark differences that geography can play in one's financial health.
And so, your decision, the company's decision to put this new call center on the south side and to have a goal to hire all of the center's leadership and much of its staff from within a five-mile radius is a really big deal. And so I wanted to give you a chance to talk a little bit more about that decision. I actually think this is the first new call center you've opened in two decades or something.
Roger Hochschild:
It is. I will tell you, it's probably the thing I'm most excited about at Discover. It wasn't that we necessarily needed a new call center. We actually have a good amount of space in our other facilities. And actually, one of the changes from the COVID pandemic, all of our representatives are now working from home and doing so extraordinarily effectively.
I actually think over time, we're going to need less space, but this really was about targeting a specific community that has not had the opportunity it deserved and us trying to make a difference. I think one of the things that companies here in the US don't focus enough about is creating jobs in general.
And if everyone takes the jobs offshore, then none of us will have anyone to sell products to. And so, we have had a 100% US-based customer service for our entire time. We're the only major bank that actually has a 100% US based, and it's not that they're not great people in Mexico and the Philippines, but I think we all need to think about how to create high-quality jobs.
And so, not only are they well-paying jobs, but every single one has the same healthcare plan that I have as CEO, and everyone has the ability for Discover to pay from the first dollar, a fully funded college education, so really looking to do our part. But it also quite frankly helps us attract great people that provide the best customer experience.
So usually, if you think about it creatively, doing the right thing is actually doing the best thing for your business as well.
Jennifer Tescher:
So that is really … I don't think I've ever heard a company say, "Well, I didn't really need more capacity in this part of my business, but I'm doing it anyway." I mean, that's a pretty amazing statement. Say a little bit more about where the idea came from. There's so much going on during this crazy time just managing the business you have and as an example, managing your workforce now remotely and from home. Did the city reach out to you? Did this just sort of come out sort of blue sky thinking? Tell me more about that.
Roger Hochschild:
Still, we certainly have worked closely with Mayor Lightfoot and her team and supporting their INVEST South/West initiative. But for me, the idea came from listening to Ibram Kendi talk a few year back in Evanston on how to be an anti-racist. And he talked about systemic racism, which wasn't a concept I'd thought that much about. And it really challenged how I thought about myself, quite happily, not racist but am I doing enough?
And it got me thinking that the traditional corporate site selection process is racist. Now, no one is going out there saying we're going to put our call centers or we're going to put our office buildings in white neighborhoods. We don't want to put them in black and brown neighborhoods. It just works out that way, because what they do say is I want to put my call center or I want to put my headquarters in a neighborhood with the best schools, which translates to a neighborhood with high property values.
I want to put my neighborhood in an area with a lot of college educated professionals. I want to put my center in an area with great infrastructure which translates into historic political power. And so you are perpetuating the systemic biases that have been here for hundreds of years. And so as we thought about it, we said, we're going to go in a totally different direction. We're going to go and we're only going to look at communities that haven't had these types of opportunities.
We are 100% confident that we're going to find great people that just need an opportunity. And so that's why we didn't take any incentive money from the state. We didn't look anywhere but the south and west sides of Chicago, and we're really excited to become part of the Chatham community.
Jennifer Tescher:
I should tell our listeners that if you haven't already determined this, Roger and I both live in Chicago. Roger is in the north suburbs and I live on the north side of the city. And in fact, one of the reasons why this news of Discover opening this new call center was of such great interest to me is because I've lived in the city now for 25 years. I used to work on the south side of Chicago, and I know just how much it would benefit, it will benefit from this investment.
So you took a pretty strong position on racial equity issues and the aftermath of the social unrest last summer. And in a memo to your employees at Discover, you said and I quote, "While we work to try social change in our country, we also need to hold ourselves accountable for creating a truly diverse, inclusive and equitable environment here at Discover to understand and overcome our biases, respect and celebrate differences and have open and honest conversations."
Now, the story you just told about how you came to this idea in the first place about opening this new call center and the personal exploration that you had been doing about being an anti-racist certainly speaks to that. I'm curious how has that been received at Discover? And what other kinds of changes are taking place as a result? How else is this new awareness playing out for the company?
Roger Hochschild:
So I think it's been really well received at Discover. We have a culture of respect but are trying to have a much more robust diversity, equity and inclusion effort to make sure that everyone feels like they have the opportunity to succeed and to be themselves at Discover. And I sort of have always been aware of the benefits I've had coming from a reasonably well-off background. My parents paid for my education and just being a white male and the opportunities I've had and that not everyone has these opportunities.
And so, I grew up in the city of San Francisco, which is about one of the most diverse communities in many shapes and forms especially in the late '60s or early '70s. And so, I've always loved the environment that challenged … And for any business person, it's about talent. The biggest driver of business success is the talent you have on your team and the more diverse the talent is, the better decisions. It's sort of a proven fact that a diverse team will make better decisions.
But also, if you create an environment where everyone feels like that they can succeed, you're casting a broader net. So that's always been part of Discover's history and legacy. More recently, we've pledged to increase our female representation to 50% at all levels of the company by 2025 and are setting similar goals for other forms of diversity as well.
And so, I will tell you the decision to locate the center in Chatham has been incredibly well received. We've had a lot of employees volunteer to help saying they either want to be based down there or they'll fly in from one of our other centers to call in. We were a bit worried that the reaction would be, "Well, does this mean fewer jobs where I am?" And that hasn't been the case. I'm really proud of how well the team has responded.
From the facility side to the HR side, everyone is just diving in and really passionate about doing something personally to drive change.
Jennifer Tescher:
Well, as you said earlier when you said the site selection process whether it's for a call center or some other kind of facility, work facility, has some systemic racism just built into it. And that may be completely unconscious or unintentional. And I'd like to think that by having made that clear in making this decision that it may cause people to think differently about all kinds of other decisions that they make every day and that they don't really have to think about, but now maybe will cause them to take a second and say, "Wait a second. Let me think about why I do it this way." Do you think that it will have that impact perhaps?
Roger Hochschild:
I hope so. I think it has had that impact in discussion I've had because sometimes people need to go through this journey on their own. I mean, I can talk about my journey but it is something that's deeply personal. And usually, there's a trigger where something, "Gosh, I never thought of it that way." And I would have said the site selection process, there's absolutely no bias. It's done by the numbers. It's all metrics-driven. We don't even look at ethnic diversity, and if anything that's a plus.
But then you sort of say, "Oh, gosh, why is it then all the jobs go to the same locations?" And we had a third party company helping us that kept saying, "Well, there are all these great buildings in River North. Why don't we want to go there?" And we said, "Because we don't want to go there. We want to be in the community." And I think this is something that only big companies can do.
And when I was down with the mayor and Congressman Rush, and other community leaders, announcing the new center, talking to the small merchants, they'll benefit from jobs in the community because of the nail salon across the street, the restaurant nearby. And then for the employees, many of the Chicago residents on the south side have an hour or two-hour commute to work, which means you're not there to help your kids with your homework. You can't volunteer coaching for sports. You can't do the things with your church that you want to.
And so creating jobs in the community is much, much more impactful than just having a job program and trying to hire from the community but still having people have really long commutes.
Jennifer Tescher:
Now, you've been at Discover for almost 20 years. You've been the company CEO since late 2018, and I've known you for a little while now. And I have always noticed that you really have a deep passion for these kinds of issues and for the underserved and the role that financial services plays in driving financial health outcomes. Where does that come from for you personally? What has shaped your values and the beliefs that you bring into the CEO role?
Roger Hochschild:
So, part of it, and I wouldn't correct you and say I've been there over 20 years because that will make me be even older. So part of it comes from my parents. My father was an immigrant to the country from South Africa, came here with virtually no money, ended up starting in computers in the '50s and building … He was a tech entrepreneur way before it was cool, but was always looking to help people who were not as well off.
And pretty early on, I had a boss before I came to Discover, who was involved in microfinance. And a lot of it was, it was outside the US, but they were very active in Africa, in Asia, in Latin America and just sort of the transformational power that a $60 loan could have. And I saw the efforts around financial inclusion, and a lot of them are more robust in developing economies than here in the US.
And so that got me … You and I have had discussions on this over the years where I think about what can we at Discover do around financial inclusion and everything from financial literacy which is sort of our flagship philanthropic initiative to just helping people understand what a credit score is, why it's important and simple innovations like printing people's credit score on their statement so they have to see it every month. And it will drive them to think about what they need to do to improve it.
It's been a big part of the Discover culture with the prior CEO. I'm happy to be carrying it on. But it's also something that really resonates for me personally.
Jennifer Tescher:
It makes sense then in a way that you've been at Discover as long as you have because last year you called Discover the "Toyota" of credit cards, because it's really designed for the everyday person. And really, it was Discover who helped to, if you will, democratized credit cards so that they weren't just seen as something the privileged had in their wallet but that everyone had in their wallets because in 1986, it was when the company introduced this concept of cashback rewards, which really transformed the landscape of credit.
The company is known as a credit card company but it's also a bank and you've been working for a while now to build up that business. So, tell us where you see Discover in the mix of the financial services industry that has certainly changed the tremendous amount since the mid '80s and where does this Toyota brand, if you will, this brand of everybody, where does it fit particularly as we're seeing lots of new entrance into the space from fintech companies and neobanks?
Roger Hochschild:
It's a great question. As I think back to 1986, Discover was started by Sears and it's hard to … Probably a lot of your listeners think of the Sears of today. Back in '86 and anything before that, Sears was the Amazon, the Walmart. They were one of the greatest American companies, and really celebrated the mass market, the everyday person.
And I think that's something that's true for Discover and other great brands like Toyota. And so, launching a credit card with the first rewards program ever but also no annual fee at a time when virtually every credit card had an annual fee. And then also 24/7 customer service, which was brand new. Really a different product out there.
And then the last piece was also building a whole new payments network. Not issuing a Visa card or a Mastercard but building a network from scratch. And so that really set us on our course. And you're right, it's been a great journey since then. I'm proud to have played a part in it. But a big change has been sort of shifting from being a credit card to more of a bank.
And so, we're now the second largest provider of private student loans. We have a great checking account, savings account, money market, home equity, personal loans. And so I think of the Discover of the future as the leading digital bank. We've never had branches but the next generation of customer experiences what you can do from a digital standpoint. It also allows you to serve getting back to what we talked about earlier, segments that haven't been served traditionally. And you're seeing that going on across the world with different mobile currencies and mobile payments that are out there.
And so, I'm really excited about what lies ahead. We need to do a better job telling the story. Some of the data I saw recently, five out of six people don't even know we offered deposit products, when we are the only bank that has no fees on any of our deposit products. So taking some of those things that helped us on the card side, that great customer experience, now not just over the phone but digital as well and through your mobile device, I think that will write the next chapter.
And another brand I really admire is Southwest, which is sort of again, that sort of small-d democratic and it's for everyone. They bring a lot of value to their customers. And then also have a bit of an edge and tone in how they compete, and I want to make sure we have that. We don't want to just be another big bank. We want to be different.
Jennifer Tescher:
Well, in a way, that Midwestern modesty, if you will, I think make sense and I think it will be fun to see how you get the word out in this next chapter, and put a little attitude in it which I think is completely acceptable at this point. But yes, that is very consistent with … Neither one of us are Midwesterners, but I think we both lived here long enough to know that it feels very consistent.
Roger Hochschild:
Yeah.
Jennifer Tescher:
So you talked about payments and just the incredible things going on in that arena whether it's real time payments, cryptocurrencies, governments experimenting with digitizing their own fiat currency. And now, we are seeing with the new stimulus bill out of Washington, we're seeing yet more EIP payments, more stimulus, but also now a new child tax credit payment. Lots of new opportunities in particular for the government to being meaning to move payments, to move them more quickly, more efficiently and to make sure to include everybody including people who may not always be included.
You recently joined a group of payments industry CEOs to form this new trade association, the Payments Leadership Council led by Raj Date. Tell me a little bit more about why we need that council now. Where's the future of payments going and what's this group all about?
Roger Hochschild:
So I think that the CEOs of the major payments companies realized and this came about through some informal discussions that there wasn't a group or forum where we all came together to look for a common interests and things we could do together to ensure a well-functioning payment system. Because having a cheap and effective way that's also, to your point, inclusive to help people participate in payments is critically important.
And so, there are some areas where we were already collaborating through an industry group called EMVCo that worked on the chip card specification that is now working what we called secure remote commerce, which is an easier way for the major networks to facilitate card payments online and through mobile devices. And we thought we made enough progress that was worth getting together on a continuing basis to make sure that we were leveraging our combined power both to participate in some of these discussions with regulators and others in the payments industry more broadly. But also look for opportunities where we can advance the payments industry and make sure that we are meeting everyone's needs as part of that.
And so, it's been a great chance for me to get to know the other CEOs even better, and Raj, of course, brings a huge amount of experience. And so, I'm really excited about what we'll be able to do together.
Jennifer Tescher:
What do you make of the broader payments landscape and all of the innovation? I'll be honest to tell you that depending on the day, I am either more or less interested in digital fiat currency. Not really sure what to make of crypto. Where do you stand on these innovations?
Roger Hochschild:
Probably then, more thing on crypto, I will confess to being … And your listeners may hate me … a crypto skeptic. I think it's fine for speculation or a store value. Someone compared it to gold, the reasons to one own it, to buy it, to sell it, to hold it. But it is not that useful to wander around trying to buy things with pieces of gold.
And so we are lucky here in the US to have a cheap payment system that functions incredibly well. And so I guess I ask myself, what does the consumer need that isn't being met? Because a lot of my background is in marketing, you really succeed and grow when you meet a consumer need.
And so I think about what PayPal did when they started, consumers had a need to pay for things they were buying on eBay that was safe and secure. And so they stepped in with the first P2P transactions and had explosive growth, and Venmo, similarly around that.
So, what this need in terms of medium of exchange that crypto helps other than transactions where you need anonymity, which tend to be a set of transactions that Discover doesn't want to necessarily be involved in. Everyone can speculate as to what those are, I just don't see the value.
We could too look at now blockchain and some of the underlying technologies, really exciting, really powerful. And so there, I think you will see some of the areas around commercial payments, securities clearance, et cetera. But now, do I wish I bought a lot of Bitcoin a few years back? Most definitely. But we're still awaiting to understand the consumer value before we make too many investments.
Jennifer Tescher:
It's interesting that you mentioned PayPal because just this week, I think, Dan Schulman who's also been a guest on this show, wrote an op-ed about why he is excited about crypto, blockchain and digital wallets, essentially. And I suspect that this is yet a new version of an account that doesn't need to be a traditional bank account in order to give people access.
And that's the one piece of this where I'm interested to learn more before I make a final decision, particularly as I think about government payments as an example. Then I think about some of the proposals like the one that Senator Brown made last year around Fed accounts and this idea that if you need to get a digital payment from the government and you don't have an account, like there should be a way for the government to still get you that payment. Maybe that's what this looks like.
But you do also have a bank and a checking account you just touted a moment ago, with no fees whatsoever. So, it strikes me that maybe the barriers are already pretty low and that for those who don't have an account, there are still plenty of options for getting one.
Roger Hochschild:
Yes. It's tantamount for me to say if you don't have an account, please go to discover.com, but I wouldn't, that would be just crass [crosstalk 00:34:18]. But I am, as you can probably tell from some of my comments, I'm probably at the most extreme liberal end of bank CEOs. But I am also a believer in the private sector.
And so I do think we and in many other banks are very determined and excited to provide accounts for just about everyone out there. So, part of it is a distribution from how do you create awareness of these products. And for people trying to get started on savings, we have great savings accounts, no minimums, no fees of any kind. And so I think there are a lot of products out there will meet fraud needs.
Dan Schulman is a much brighter guy than I am, so now I have to go back and look for that. I do think you're not cool if you don't have a crypto strategy as a company. So, everyone seems to be doing something. We maybe aren't as worried about being cool as we should be. So, I'll go away and think about that.
We've been talking a lot about the business strategy. But one of the things I know you also have a lot of passion for is Discover's CRA strategy, Community Reinvestment Act strategy. And I feel like increasingly, you've got more tools in your toolkit to be able to make good on issues of financial health and inclusion.
Jennifer Tescher:
I wonder if you could talk a little bit about how you see the connection between what the business can do and what you can do via CRA and how those things connect up, particularly in light of the fact that right where we're almost certainly going to get yet another revised version of CRA if and when the government appoints a new head of the OCC.
Roger Hochschild:
Luckily, we are regulated by the FDIC. And the FDIC seems to be less desiring change on CRA. So, the Community Reinvestment Act is something that we take very seriously. And I think a lot of banks just view it as a cost of doing business, and so it's a check-the-box exercise.
We've got a great team and our bank is chartered in Delaware. So, a lot of our CRA activities are out of the state of Delaware. But they really focused on the spirit of the act, not just what do we need to do to get a rating. And so we're always working with different aspects of the community around creative programs, whether it's encouraging home ownership, avoiding evictions, looking at products and services for unbanked segments, financial education in the classrooms.
So, we actually think about it the other way in that it can be a great area to develop concepts that may turn to something that we roll out more broadly and turn into a commercial opportunity for Discover. So, we were probably one of the few banks who said, "No, no need to change. We like the Community Reinvestment Act just the way it is," and have gotten a lot out of it as a company.
And a lot of the initiatives we work on, we talk about them a lot internally. It makes the employees proud of Discover, of our mission and of what we do to help people who need a bit of support.
Jennifer Tescher:
So, we were both just comparing notes that we both recently gotten our vaccines, at least our first shots. And I don't know about you, I feel like I can just begin to see the light at the end of the tunnel. It's been a really hard year. I'm curious, as you look ahead both for the world and for Discover, what are you most hopeful about? And what do you think this recovery is going to look like?
Roger Hochschild:
I share your optimism that things are getting better. Maybe it's just living in Chicago and it's getting a little warmer that makes you optimistic.
Jennifer Tescher:
There's that.
Roger Hochschild:
And that summer may in fact come once again. But I actually think that both the events of last summer with the murder of George Floyd and the focus on social justice, but also the real inequalities that the pandemic exposed, hopefully have created a sense that we're all in this together, a sense of community and a sense of sort of responsibility to help your fellows who are just not as well off and need help at this point in time.
And that carries on, because many people were struggling before the pandemic. It might have been quieter, but my hope is that that increased awareness and understanding of the collective nature of human existence is more powerful, and that people will all be inspired to do more. And you showed many great examples. Certainly the courage of our healthcare professionals, all the essential workers who are at risk of themselves and their families in not glamorous jobs, people who are working as baggers of grocery stores that continued and put themselves at risk. A greater appreciation for that sacrifice, hopefully will stick with us going forward.
Jennifer Tescher:
Roger, thank you for joining me on EMERGE Everywhere.
Roger Hochschild:
Thank you so much for having me.
Jennifer Tescher:
This has been EMERGE Everywhere, a Financial Health Network production. I'm Jennifer Tescher, and I'd love to hear your ideas for future guests and your reactions to the show. You can connect with me on Twitter @JenTescher. If you liked this episode, please review the show and subscribe wherever you get your podcasts. To learn more about the work and research we do, please visit emerge.finhealthnetwork.org. See you next time.