EMERGE Everywhere
Maria Flynn: The Future of Work
Maria Flynn knows the importance of bringing together competing interests to create dynamic and sustainable solutions that work. As the CEO of nonprofit Jobs for the Future (JFF), Maria draws on her nearly three decades of experience at the intersection of education and work to lead the organization's overall growth strategy. In this episode of EMERGE Everywhere, Jennifer sits down with Maria to tackle some of the biggest questions in the workforce today, from the role of technology to the future of higher education.
Wednesday, November 17, 2021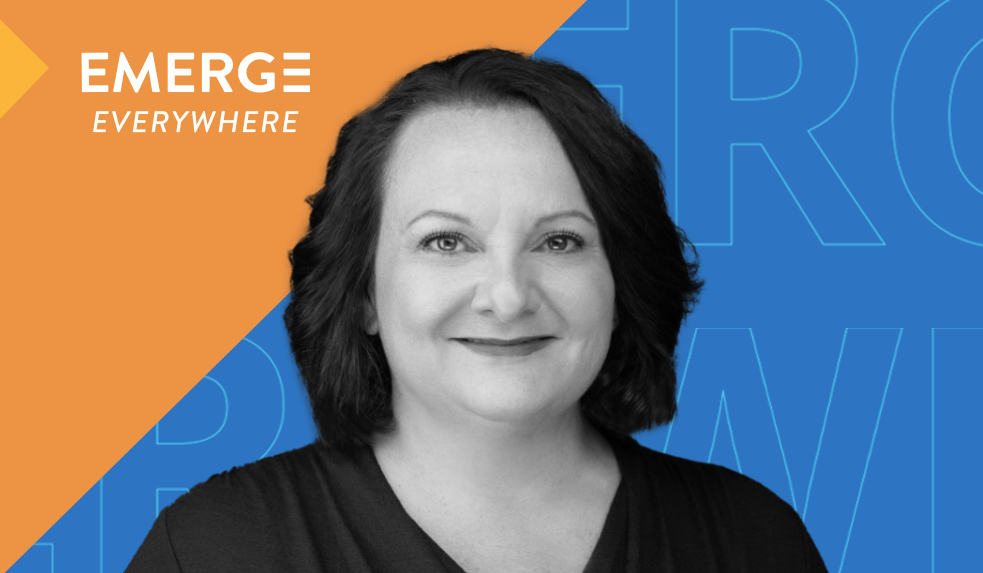 Maria Flynn
Maria Flynn is the president and CEO of JFF, leading overall growth strategy, including funding diversification, strategic planning, and partnership building. She also oversees the organization's federal policy and advocacy strategies, focused on critical education and workforce issues. Previously, she was a member of the federal government's Senior Executive Service and served as administrator of the U.S. Department of Labor's Office of Policy Development and Research. 
Learn more about Jobs for the Future and check out additional episodes of EMERGE Everywhere.
Episode Transcript
Jennifer Tescher:
Welcome to EMERGE Everywhere, I'm Jennifer Tescher, journalist turned financial health champion. As founder and CEO of the Financial Health Network, I've spent my career connecting forward thinking leaders to the growing fin health movement. Now, I'm sharing these conversations with you. Discover how these visionaries are challenging the status quo and improving financial health for their customers, employees, and communities.
My guest today has spent nearly three decades at the intersection of education and work. As CEO of Jobs for the Future, Maria Flynn is working to align these systems in a way that benefits both workers and employers in an ever-changing economy. She is a master convener and knows the power of bringing together competing interests to create dynamic and sustainable solutions that work. 
Welcome to EMERGE Everywhere, Maria.
Maria Flynn:  
Thank you so much, Jennifer. It's great to be here.
Jennifer Tescher:
Here being, you're in Boston today I think in your office.
Maria Flynn:          
Yes, I am. I am. Yeah.
Jennifer Tescher:
As I understand it, the organization you run, JFF or Jobs for the Future, was founded back in 1983 because the co-founders were motivated by workers who were losing their jobs to automation. That sounds awfully familiar. Have we always been afraid of the technology eating our jobs, only to find that jobs keep evolving? Or is something really different now 40 years later?
Maria Flynn:
Yeah, that's a great question. I think a lot of things are the same, and then I think some things are different. As you said, we were founded almost 40 years ago, which is hard to believe in a lot of ways. At that time, our co-founders, Hilary Pennington and Arthur White, they really just saw this gap in the field where they felt that particularly at the state level, not enough was being done to help workers prepare for changes in automation, how to help workers who were losing their job because of those shifts. We really started out working with a couple of states, like Connecticut, Arkansas, back when Bill Clinton was governor of Arkansas, to really help leverage research to forecast what the jobs of the future were going to be to help people develop the skills that they were going to need to take those jobs. Then to reimagine, what should the workforce and education system really look like in the US?
Here we are almost 40 years later, still at it. I think to think about just how different things were in 1983 in terms of where we were without internet, without our iPhones, without the real time labor market information providers we have today trying to do this. Then here we are now, probably in a more critical time than we've ever seen, where the issues of education and work to me are just at such the forefront across all the issues that we're dealing with in the US, whether that be structural racism, whether that be the political divides that we're healing. To me it all comes back to these core issues. At JFF, we sit in this unique position between education and workforce, and policy and practice. I like to think that back in the 80s, that Arthur and Hilary were really ahead of their time. I like to think that at JFF, we always work to keep ahead of the field and be skating where the puck is headed, so to speak. That's where we are. I think that the debate around the future of work is still critically important. I feel that in a lot of ways, it is too much a debate and not enough action. But we can dive into that some more.
Jennifer Tescher:
Yeah. Well, as you said, the changing nature of work was a hot topic, even before COVID 18 months ago. Between the pandemic and the racial reckoning that's ongoing, the rise of this idea of stakeholder capitalism and just the staggering amount of student debt in this country, the role of work and education are at the center of the discussion. I agree completely. As your organization works towards its mission of access to economic advancement for all, what are the biggest obstacles to achieving it? How do you even know where to start?
Maria Flynn:
Yeah. Yeah, it's a very complex issue. I think how the organization has evolved since our founding as that over the decades, we continue to add additional levers that we're pulling in advance of our mission, and to really try to drive the conversation, to drive impact, to drive outcomes. I think it's important to think through how there are both supply side levers and there are demand side levers that have to be pulled. What I love about JFF is that we are able to play a role across those. First and foremost I think, if you think about the student or the worker, I like to think about how do you help people find their path? How do you help them finance that path? How do you help them flourish in that career that they choose? I think where we are as a nation is that there are pretty huge obstacles in each of those three buckets. I think in terms of finding, whether you're looking at a college, or you're looking for your next job or you're looking for an apprenticeship, it is hard for individuals, for families, even for community based organizations, to really have a clear navigation system to help them figure out what are the best options for me?
I think really trying to tackle that question of navigation, accessible data, actionable data is really at the forefront of our strategy right now. Also around finance, you mentioned student debt. Very interesting, important conversations happening in DC right now around free college, around doubling Pell and so forth. But that's not the whole issue. There's more that needs to be done. A lot of those conversations, in my opinion, are very disconnected conversations around traditional higher ed financing is really disconnected from discussions of workforce training. So we need to keep pushing this conversation and bringing back the reality of, what is this really looking like for individuals, particularly for people of color? Then this idea of flourishing in your career, thinking about what supports are needed at the workplace. How to think about how the various public funding streams come together or not to help a person advance. Just an enormous amount of work to do in those buckets.
Then on the employer side, while I think the good news is that we have seen a lot of promising corporate practices over the last few years, there is still a lot that can be done both to really transform hiring practices, to be thinking through what are alternatives to the four year degree as a critical hiring signal? To be thinking through how more diverse pipelines of talent are developed and what partnerships need to be put in place for that. That's just some of the current top of line issues that we're looking at. But as you said, it's very complex. It requires the input of multiple stakeholder groups across this complex learning to work ecosystem. I know that's how our organizations are similar in that way where we think a lot about the interconnectivity and the importance of bringing people together in new and different ways.
Jennifer Tescher:
Totally. I was thinking that as you were describing this find, finance and flourish. I just love that both because I like alliteration, but it's very helpful categorization of the issues, and thinking about it both from the demand and the supply side. Of course, I think a lot about the flourish part of it, and that too often, we think about flourishing in a job or flourishing as a student in a pretty narrow way. When we recognize that we live in a complex world and people's lives are complex, and that there is so much that intersects and that can drive that great thing you think you're doing over here around helping someone flourish in their job is totally derailed by an illness in their family, or some financial challenge that they're having, et cetera. I really like the idea of bringing folks together. I'm curious, you mentioned employers. I think your work with employers is maybe newer-
Maria Flynn:        
Yes.
Jennifer Tescher:
As a strategy for the organization. I've heard you talk about impact employers.
Maria Flynn:    
Yes.
Jennifer Tescher:
I'd love to hear you talk a little bit more about why JFF started working more with the supply side, if you will, and what does it mean to be an impact employer in your mind?
Maria Flynn:             
Yeah, absolutely. While I would say throughout our history, we have always worked on both sides of the supply demand coin, about three years ago, we believed that we needed to take more intentional steps to work directly with corporate players. And that there was an important role that JFF, as a mission driven nonprofit, could play in helping to shape the conversation to help to promote more equitable strategies and so forth. We launched the Corporate Action Platform about three years ago with some initial funding by JPMorgan Chase. We have used that, it's primarily targeted to Fortune 500 companies. The framework that we use for that work is our impact employer framework. It is really this belief that an impact employer is implementing strategies that inherently put the worker at the center, and balancing that with positive business outcomes. But it's thinking through those traditional pieces, like hiring, and retention and advancement, but also looks at issues like total rewards. It looks at issues such as ethical off boarding when that becomes a factor. Really helping employers learn from each other around what are the very practical action steps that they can take towards really becoming a true impact employer.
That work is partially convening and peer learning collaborations and other sets of activities with employers. Then we also have a corporate advising practice where companies are hiring us directly to help them design or scale new interventions. One announcement from this week was some coverage from a program that we designed for SAP that was bringing in virtual reality based training for some young people. We're starting with a pilot of about 50 young people using virtual reality technology to help them dig into curriculum around leading through adversity, around how to have challenging conversations, and to be able to really use this technology to create a safe space for that training to happen. I think that's a good example of this role that JFF plays where the corporation is our client. We're helping them to design human centered interventions that increasingly can leverage this new and emerging technology, which to me is going to really be the key as these programs move forward is how do we start to bring these pieces together?
Jennifer Tescher:
Well, that's a great segue to something else that you've brought to bear recently under your watch at JFF, which is this new JFF Labs. It sounds like you think technology has a real role to play in the issues that we've been talking about. I'd love to hear a little bit more about how you're thinking about that, and some of the investments that you've made. I think it's a particularly interesting time to talk about this. Both of our organizations are involved with supporting and seeding innovators, technology innovators. But we also live in a time where, rightly so, technology and technology companies are under tremendous scrutiny about their practices. I've always been very clear that technology isn't the answer to life's problems. It's a tool. But I'm curious to know how you are thinking about that in this moment.
Maria Flynn:
I agree. This has really been really the top priority for me since I became CEO at JFF, just about five years ago. It was really this realization that there were siloed things happening in the field. You had what I would call the traditional players, which is where JFF for decades had really focused its work, that were moving along a path of transformation and innovation at a certain pace. In that category, I would place community colleges, workforce boards, community organizations and so on. But then you had this other silo of activity around tech entrepreneurs, investors, corporations that were testing out their own tools and theories of change and so forth. I really felt that in the workforce education field, these folks were not talking to each other and that you had even an embedded distrust of each other. I found this even within our own organization, and I say this of myself as someone who really has spent their career more on the traditional side of the house working for the federal government. But I think there was this inherent distrust of anything that seemed to be for profit.
There was a distrust that if you moved away from the traditional system, that you risk losing it all. Then I felt like on the other side of the house, on the technology side, I think a lot of times we would see entrepreneurs who felt they had a silver bullet solution, but didn't really quite have the full understanding of the underlying systems that they were trying to change. At JFF, we have really been on this crusade now for about five years to build a bridge between these players, and these conversations and these investments. JFF Labs is really our primary vehicle for doing that. Within that team, which is led by Kristina Francis, our executive director of Labs, is work with mission aligned startups. We really lead with that. I think to your point, we are going to work with entrepreneurs and companies that share our beliefs and that, at the end of the day, are working to drive positive impact for underrepresented populations.
We have brought in, about two years ago, ETF at JFF Labs, which is an early stage impact investing fund. Again, giving us that additional lever to pull where now we can actually make equity investments in companies that we really believe in. Then we can be helping our traditional networks of colleges and organizations learn more about these new players. We can run demos to test things out within the traditional systems, we can be building evidence around that, and hopefully, ultimately really changing the conversation and changing how both sides are relating to each other. To me, this all comes down to trust, understanding, putting mission and equity at the center of all of the work. But to me, that's how we're going to achieve real results is this embracing of both the old and the new, so to speak, and to really help take the best of both worlds and move forward.
Jennifer Tescher:
Can you give an example or two of some of the companies that you've made investments in?
Maria Flynn:
Yeah, absolutely. We invest at this intersection of education and workforce, particularly around solutions that are designed to help individuals advance in their careers, including the support services that are needed for that. One is Equity, which has been a really exciting company to watch over the past year and a half, where they help provide emergency aid particularly through community college systems to students. We are an investor in Cell-Ed, which is a digital solution really geared to help frontline workers enhance their skills. Really designed around micro courses and content, and very easily accessible. Climb Credit is another, which is really related to that finance bucket I was mentioning before. Continuing to look at innovative financing strategies, they're a great example of that, which is also tied to our financing the future effort. But there are a lot of great examples out there, new technology approaches to work based learning opportunities, to project based learning. Different job boards designed for different segments of the market. It's a hot market right now-
Jennifer Tescher:
It sure is.
Maria Flynn:
Lots of innovation happening. It's great to be able to have this small role that we can play in the market to really invest where we see great bets being made.
Jennifer Tescher:
Yeah. Well, I couldn't agree more. We have a similar strategy, as you know. We share a couple of portfolio companies. We're also investors in Equity and Climb Credit, so it's good to be in your company. You mentioned your long career in government prior to coming to JFF. I want to get to that in a minute. But you also earlier talked about all of the policy activity going on around a whole range of issues. Leaving aside college and free college, student debt, for just a moment, as you think about what's happening in Washington, and in some cases at the state level, where do you see the most opportunity or the most need to take action? Where can federal dollars or federal direction, federal requirements, make the biggest difference here? Is it around what employers can and can't do as it relates to their employees, or is it more on the systems and market side of the equation?
Maria Flynn:
I'd say it's on the systems side of the equation. I have two major points of view on this. One is near term. With the reconciliation bill that is being negotiated now, we're looking at a hopefully pretty significant investment in workforce development really at unprecedented levels, which is really exciting in a number of ways, and is something that JFF has been really strongly advocating for. Even though the house and the senate are at very different levels, even if you went with the lowest numbers, it's still a huge increase to the status quo. I completely support and understand the need for us to get dollars into the field now to help with the up-scaling that's needed to be able to ensure that the infrastructure investment is actually going to be able to happen with the skilled workers that they need. Very much believe in that.
I would say the but is, I also feel that there needs to be very soon a more robust conversation around, what do we really want this workforce system to look like in the United States? We are operating in a system that is – you can tie it back to the New Deal in many ways. Even the Workforce Investment Act, which I worked closely on, was enacted in 1998, which really set the framework for the programs that are existing now. It was developed at a time when we didn't know what technology was going to bring us. It's a system that was very much designed around the idea of brick and mortar buildings, very complicated requirements, a very decentralized system. I really feel that too often in DC, because of things like power and politics and all that stuff, that folks aren't asking the really hard questions.
Right now, today in DC, the question is how much? I think the question, once we get a little past this time of emergency, the question needs to be more around the what. What's the design? How do we create a more worker centered lifelong learning system? How do we rethink a lot of these almost assumptions that we have of the way that we think the system has to operate and work? I feel that's where the conversation I think needs to shift to very soon.
Jennifer Tescher:
Give an example of an assumption or two that we really need to question.
Maria Flynn:
Yeah. I don't want to pick on the workforce board system because that's where I've spent most of my career, working around them. But I do feel we have this framework that has almost 600 local workforce investment boards around the country. My home state of New Jersey, for example, has 21 counties, and I believe they still have probably 17 or 18 workforce boards, which means that each of those boards directs their own funding, has their own executive director, probably has slightly different rules and regulations.
Jennifer Tescher:
Tell the listeners, what do these workforce boards do actually?
Maria Flynn:
They largely administer the federal job training dollars is the best way to think about it. They are comprised of leaders of the community from the private sector, from organized labor, from training providers and others. But I think where the conversation gets lost is, the labor market has changed. Yes, at the end of the day, it all comes down to community and regional economies for sure. But I feel like in that one example of this federal system that administers billions of dollars a year, it is locked into a very bureaucratic way of operating. In that case, to use New Jersey, they're a county by county way of operating. No one really wants to have that conversation of, is this the right way to administer this system? Is there a more modern way of doing this that doesn't come down to these local boards? It's a conversation that folks don't want to have because it gets-
Jennifer Tescher:
Winners and losers.
Maria Flynn:
Yeah, exactly. That's a pretty narrow bureaucratic example, but one that I feel is a great example of the conversations that aren't happening in DC, that aren't happening in the federal agencies. As a result, I think dollars aren't being used as efficiently as they could. It's a system that is centered around the system versus a system that is centered around the worker.
Jennifer Tescher:
Yeah. So you've cut your teeth in workforce back in the 90s at the Department of Labor. You were there quite a while under three different presidents, Bush one, Clinton and Bush two. How did you get into these issues in the first place? What drew you to this arena? Why did you start out in government?
Maria Flynn:
As long as I can remember, I have just been driven by this notion and the importance of economic advancement and economic opportunity. That's largely because I literally grew up around it. I grew up in New Jersey. When I was growing up, my father worked in workforce development almost his whole career. He worked for Christie Whitman and Tom Kane in New Jersey in the New Jersey Department of Labor. Meanwhile, my mother, who went back into the workforce when I was I think in fourth grade or so, took a job at our local, what we then called our vocational education high school or career tech ed high school. I used to go to work with her in the morning every morning until high school started. So I had a real, very hands on view of career and technical education that was just a big part of my life. Then I also had an aunt who was very involved in organized labor in New Jersey, particularly in the manufacturing sector. Those were the three major influences in my life.
Looking back on it, I think it taught me a few things. Once, this importance of being able to look at these issues from different vantage points, and particularly seeing some of the political debates that would happen. Back then, again, in the 80s and 90s, seeing play out in real time, if you had a republican governor who was trying to get measures through, and the importance of bringing organized labor along with those ideas was just something that was very apparent to me. How this idea of the importance of bringing stakeholders together, of having common goals, I think is something that has really shaped how I think about the work. I joined the US Department of Labor right out of school. I loved my time there. I had incredible opportunities under each administration. Things that very much I think drive a lot of my work at JFF. Again, these connections between education and workforce, the importance of federal agencies working together on initiatives, the importance of driving innovation.
But ultimately, I decided to leave because I felt that that last part of driving innovation was hard to do from within the federal government. Even in the most positive political climates, it's hard to do. That is what took me to JFF in 2007.
Jennifer Tescher:
At which you've learned it's also hard to drive innovation-
Maria Flynn:
Yes, exactly.
Jennifer Tescher:
In the private sector or out in the world.
Maria Flynn:      
Exactly.
Jennifer Tescher:
It's still hard. I can totally understand your quest for where can I do the most good?
Maria Flynn:
Yup.
Jennifer Tescher:
Every place has its pros and its cons I guess. I think we both are old enough now to have the perspective on that. Clearly, your time in government is such a critical part of the way in which you're able to operate, and recognize that it isn't any one of these entities, it's all of them working together.
Maria Flynn:  
Absolutely.
Jennifer Tescher:
I want to talk about something because you just raised it. I want to talk about worker voice. Worker voice is this hot phrase at the moment, as if we've never thought to talk to workers before. But I like very much the idea that there's this recognition that we need to center workers, we need to make sure we're hearing them. What made me think about it is you talking about the unions.
Maria Flynn:        
Yup.
Jennifer Tescher:
When you think about worker voice and how that plays out in your work today and the others that you're working with, make it a little more tangible. What does that mean? What should people be doing? What are the right ways to engage workers in these policy discussions, and frankly in these programmatic discussions? Talk a little bit more about that.
Maria Flynn:
Sure. I think on the public sector side, I do believe we need to be looking at how to get the voice of the customer more at the decision making table or in those design conversations. I feel that over the years, different things have been tried around, well, you have to have this type of representative sitting on this council or this board. I think in the past, a lot of that has been proforma unfortunately. I think really stepping back and designing from the start, how do we have real human centered design approaches and conversations from the beginning, is just critically important. I know during the Obama administration, there was some work done in that area through the Department of Labor. I'd like to see more of that happening. I think you need to have incentives to help the bureaucracies move in that direction. I think you also need to, the federal government needs to be able to be okay in providing some additional flexibility where I think that just does not exist now when it comes down to really technical things, like cost allocation and those types of requirements.
On the private sector side, I think that you and I are both also employers. That's part of our roles. I think we're seeing that this isn't going to be optional. I think workers today expect to have a voice, expect their voice to be heard, expect for action to be taken as a result of that voice. I think that regardless of what size your organization is, you need to start putting structures and processes in place to enable that to happen. I don't think that's going to change. I think that's just going to become more and more the reality. I think organized labor, of course, is one structural way to do that. But even having more informal mechanisms to make worker voice a big part of decision making, of policy development and so on, I think is going to be the way that we move forward.
Jennifer Tescher:
I want to talk a little bit about the education part of the workforce equation. It's on my mind because I just dropped my older daughter at college for her freshman year. For a long time, the four year college degree is the holy grail. Best path to long term economic prosperity. People who have a college degree make more money than people who have a high school degree, all the standard stuff. But I can tell you the sticker shock I had as a parent, and I am deeply privileged to be able to manage it, but the majority of Americans cannot, is the cost of college worth it? Is it still worth it as we see the labor force changing? Is it the only option? How much of the issue in this country is cultural versus technical or operational, if you will?
Maria Flynn:
I love this question because my oldest daughter is a year behind yours. My oldest daughter is a senior in high school, so we are right in the middle of the application process. I'm also acutely feeling my privilege as we go through the process. I have to say that even though I've worked on these issues my whole career, it has been really sobering to me to see … you hear about the prices, but until you see the prices as a consumer, it's really shocking. Again, even though I have conceptually known this for a long time, just seeing how hard and opaque the decision making process is, is also stunning in terms of the assessments that are taken, the platforms that are used, the information that's available from the colleges. It is very bureaucratic, it is really structured in a way that I feel underscores elitism. It's deeply troubling. This summer as we were doing some college tours, my daughter said to me, "Mom, this process is really weird." I said, "Yes, honey, this is a really weird and troubling process."
I feel that higher ed was ripe for a disruption pre-COVID. I think the past 18 months have sped up that reality. My concern is that by and large, traditional higher ed is extremely slow to respond. In some cases, I think they might say the right thing, but the actions don't measure up. I think I would almost take the real elites, like the Ivies, out of the conversation because they're going to continue to do their thing. But I think when you look at the hundreds of other institutions that are out there, how are they really thinking about student success? How are they thinking about labor market outcomes? How are they thinking about, going back to find, finance and flourish, how are they thinking about these connections that need to be made, and providing students with the agency that's going to be needed to help them navigate through these pathways?
I think there's just so much to do. I think that you have some of what they call mega universities, Southern New Hampshire University, Western Governors doing really innovative amazing things. There's part of me that thought maybe my daughter should get an apartment somewhere, get a job and get a degree at Western Governors. But I think to your point around culture, we're not all the way there yet as a society unfortunately. At the same time, when you look at the statistics, I believe it's about 68% of adults in the US do not have a four year college degree. Those numbers are higher for Black and Latinx adults. It's almost like as a society, we're living in a false reality where we think, oh, everyone is going to get these four year degrees and they're going to go off and flourish. The numbers just don't support that. To your question, I think there are wonderful alternatives out there, whether that is more structured programs, like registered apprenticeship, whether it's a community college pathway, whether it is some of these new tech providers that are coming on the market, like Merit America or NPower, others that are getting great outcomes.
But it really to me comes down to the fact that high school guidance counselors I don't think are equipped to navigate these options. I don't think parents are in a position because it's like a black box that they're trying to dig into. While I feel that this disruption is imminent, I worry that we don't have enough of the foundational pieces in place to enable that disruption to really be successful, and to be successful in an equitable manner. My younger daughter is in third grade. I often spend a lot of time thinking about, what do we want this to look like when she's a high school senior? What needs to happen in these nine years to actually finally, once and for all, have this change?
Jennifer Tescher:
Well, I don't have as much time as you because my younger is in seventh grade. So hurry up, Maria.
Maria Flynn:  
So we need to hurry up-
Jennifer Tescher:
Figure it out. Maria, it is so clear from this conversation that not only do you have the passion, but you are in exactly the right place to be helping all of the various stakeholders sort through these challenges. Thank you so much for joining me on EMERGE Everywhere.
Maria Flynn:
Thank you for having me. This has been great.
Jennifer Tescher:
This has been EMERGE Everywhere, a Financial Health Network production. If you like the show, please help spread the financial health message by leaving a review. If you have ideas for future guests or thoughts on the show, please click on the link in the show notes to connect with us. See you next time.