EMERGE Everywhere
Jeff Jones: Building Blocks of Purpose
To CEO Jeff Jones, H&R Block isn't just a tax prep company – it's an engine for growing financial confidence. In this episode of EMERGE Everywhere, Jennifer and Jeff talk about how his penchant for studying behavior and his own experience with financial hardship led him to center the company's growth strategy on a sense of purpose. Tune in to hear how Jeff and his team are leveraging the H&R Block brand and deep customer relationships to turn tax time into an opportunity to improve Americans' financial health.
Wednesday, February 23, 2022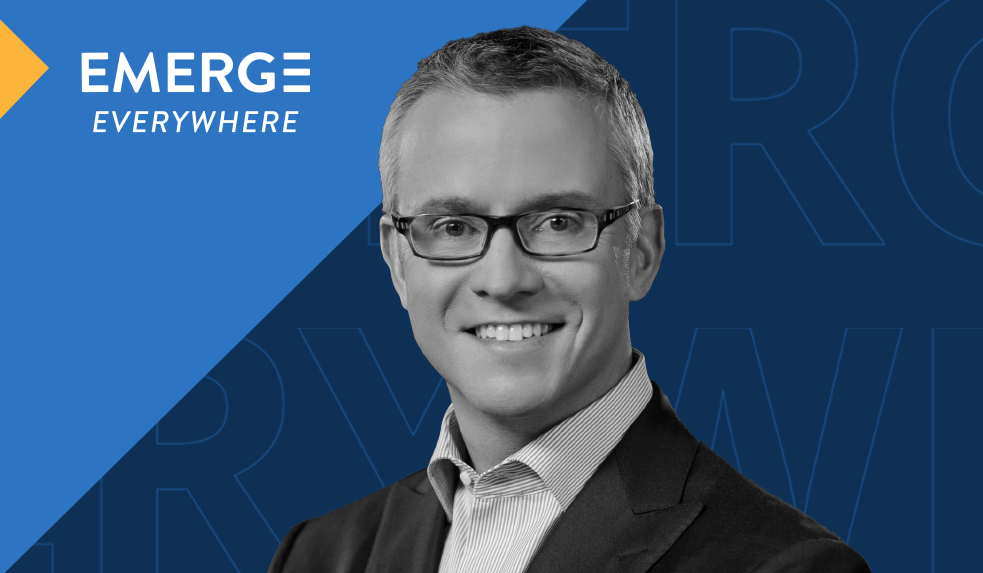 Jeff Jones
Jeff Jones is President and CEO of H&R Block, leading the global business that inspires financial confidence through its small business, financial, and tax preparation services. These digitally enabled solutions are powered by the expertise and care of more than 120,000 franchisees and associates. Jeff brings nearly 30 years of executive management, innovative leadership, and operational excellence to the company, having held key roles at top companies in retail, consumer products, agencies, technology, and beyond.
Learn more about Spruce by H&R Block and check out additional episodes of EMERGE Everywhere.
Episode Transcript
Jennifer Tescher:
Jeff Jones is not your average CEO. He started his career in advertising, and then marketing, using his skills as a student of human behavior to encourage people to buy.  Now at the helm of H&R Block, Jeff has placed purpose at the center of the company's growth strategy, leveraging its storied brand and deep customer relationships to turn tax time into an opportunity to improve consumer financial health.
Jeff, welcome to EMERGE Everywhere.
Jeff Jones:
Thank you. Great to be with you today.
Jennifer Tescher:
We are in the middle of tax season, and I think when people hear the name H&R Block, that brand, they think taxes, but most recently you announced Spruce, a new financial services app. H&R Block has a long history in financial services, sort of in again, out again, often on. Would love to hear the company's thinking, you're thinking about going back into financial services right in the heart of tax season. What are you hoping to accomplish?
Jeff Jones:
Well, I appreciate the question because you're right. We enjoy really high brand awareness and trust as a tax company. If I rewind just a little bit. When I first got to the company, I joined in the fall of 2017, and we did a complete holistic review of the company. We actually went back 17 years in history and just tried to figure out where are we, how do we get here, what's working, what's not working. In that process we identified, again this is back in '17, what we call under-leveraged assets of the company. Two of those ended up being our financial services portfolio and our small business work.
We identified it really early. And then the first order of business for us was to stabilize and improve the core consumer tax business. And then two Decembers ago, so December of 2020, we announced what we call Block Horizons 2025. That's the framework for our growth strategy as a company. That's when we took basically several years of work and analysis, codified it into our strategy and said that financial services is a place where we need to be and we need to be doing more. That's really when we started to express it again externally, was two Decembers ago.
Jennifer Tescher:
I see. Why? Why is it a place that you need to be?
Jeff Jones:
Well, I think that there's a few reasons. I think when you're developing strategy, you look at who do you serve as customers, who are you as a business, what capabilities do you have that you can leverage, what right to win. We ask ourselves all those questions. The fact is in core consumer tax, which is obviously called tax preparation, the outcome is a really important financial outcome. Our clients, almost all of them get a refund. We know that refund is the most important check they receive all a year, so that's a starting point.
To your opening question though; we have been in financial services a lot of different ways, from being a federally chartered bank to not being a bank but working with bank partners. And over the last many years, we've offered two different kinds of lending products. We've offered this re-loadable debit card called the Emerald Card. So we've still been in the business, we knew that we hadn't innovated with any of those products for years, we knew we had strong brand, great distribution, we had customers that really needed help, and if you just really simply put all that together, that's why we believed that it was under-leveraged and there was way more than we could do, and that's what's become Spruce.
Jennifer Tescher:
I see. So Spruce is essentially a bank account. Is that a fair descriptor?
Jeff Jones:
Absolutely; checking and savings.
Jennifer Tescher:
Okay. There's a lot of competition and financial services for what I would call the disaffected. There's the Chimes of the world. They're the Allys of the world. I could point to number of other examples. Talk about what Block's competitive advantage is here, and how you think with the release of Spruce, how you're tackling that.
Jeff Jones:
Yeah. Well, let's again start with the customer. You're absolutely right; there are many competitors and that number seems to be growing. Maybe it's a separate conversation. Whenever there is a very large, clear problem, it attracts a lot of money. And that's what's been happening is a lot of private equity investing in early-stage companies, I believe there will be consolidation ultimately. But when we look at that landscape, we see obviously a very established traditional banking industry and that banking industry, depending on the brand, struggles with trust. We know banking in general struggles with trust. We've seen them because of their business model, struggle to offer the modern features that customers expect. And then the opposite end has been true where a lot of money's been thrown at tech and customer experience. And so there are many players who are building trust, building relationships, building brand awareness. I think that tech is starting to be neutralized.
Where we think we can fit in is we're building a modern product, so tech is now parody. Our day one product with Spruce is as good or better than many established challenger banks in terms of the features. It's from a company that fundamentally helps people with their money, but we're not a bank, and we know we have incredible trust, awareness and distribution. So it's an interesting way to combine both what we view as our assets with what the landscape looks like, and obviously super easy to say, now it's about execution day in, day out, but we love our starting point.
Jennifer Tescher:
Yeah. Not surprisingly a lot of what we've talked about so far you have framed in the concept of brand, and you're certainly working for a storied brand at H&R Block. You're a brand guy. You have represented large brands like Coca-Cola and Gap. You were the CMO of Target during their rebuilding years. I think your first job at a school was at Leo Burnett. So you're really Mad Men, right? Frankly, aside from a short stint at Uber, which almost doesn't count, I think you'd probably be happy to not count it either, you've largely focused on retail and consumer packaged goods. Tell me what you bring from these sectors that are helping you in the tax and financial services world? How does your marketing background lend itself in this role?
Jeff Jones:
Yeah, it's so funny because I get asked that question a lot. I haven't really had a marketing job now for about six or seven years. So I think I'm a recovering CMO. I don't know what the right label is. I've been very lucky in my career because of the brands I've worked with that marketing has meant something far more than advertising. I think people confuse those words a lot. The way I've been trained and what I try to bring to the role of CEO is an intense focus on the customer as a starting point. I think any great marketer, frankly, any great leader starts with the customer.
Over the course of my career to build experiences, maybe even a little expertise in running retail operations, digital transformation, how do you build products that solve and anticipate customer needs, I think that's one of the things about my career that I've been very lucky is there are some themes and patterns, but there's also been a lot of very, very different experiences. And so when you can kind of put together how do you solve a problem through the lens of a startup company or a fortune five company and then apply technology solutions and culture and talent, I mean, that's really what we're trying to do. But at the end of the day, we are a customer-focused business that competes digitally and has retail and that's kind of the sweet spot of my career.
Jennifer Tescher:
Yeah. That makes a lot of sense. I'm a former journalist. This is about the last thing on earth I thought I'd be doing, but it was now a very long time ago. When I first left being a newspaper reporter and took a job, it took a long time for me to break out of the silo that a lot of people would put me in; "Oh, can you edit this for me?" So in a way doing this podcast has been so much fun for me to sort of hearken back to those days. I think that similar to you, the skills from that world have been very helpful to me in the work I do now. So I don't think you have to be reformed to anything.
Jeff Jones:
Good.
Jennifer Tescher:
I really believe that as you said, one of the superpowers of great marketers is putting people at the center, listening to them, understanding what drives them, building products and experiences that are responsive. You have described yourself in the past as a student of human behavior. I'd love to hear a little bit more about what you mean by that, and where do you think that interest comes from.
Jeff Jones:
Yeah. I always struggle with these questions about where do you think it comes from because I really don't know. That's the honest answer. My parents would've told you that the first word I ever said was "why," and it kind of expressed this curiosity in my life from as early as I can remember. Most people don't know that when I went to college, I actually thought I was going to be a fashion photographer.
Jennifer Tescher:
Oh, I love that.
Jeff Jones:
That was my absolute passion, and photography was literally my lens on human behavior. Up until the iPhone, I carried a camera with me everywhere I went. Now I carry a phone and a camera with me everywhere I go. Why do people do what they do, and how do you observe, in my own words, I say, listen with your ears and your eyes. I think that's been inherent in me for as long as I can remember.
Then there have been some career moments, and I'll give you one example that was profound. When I worked for the Coca-Cola Company, the CEO at the time was a gentleman named Roberto Goizueta, and he was a legendary CEO of Coca-Cola. One of the first things he did when he traveled was looked into trash cans. It was such a strange thing to hear the CEO of a fortune whatever company talk about looking in trash cans, but that was his shortcut to the insight about what are people drinking because you could see what was thrown away.
There are little nuggets I've learned along my career about how do you be a student of human behavior. You can't read about it. I can't sit in my office as a CEO and read reports and be a student of human behavior. Later today, I will go on the road and be out in the field visiting offices. I'm not looking in trash cans in this industry, but I think there's so many clues to be found by watching how people behave, not just listening to them because people can't always articulate what's not working. And you can observe what's not working when you watch people use your products or services. I think in every industry you're in … When I was at Uber, I drove for Uber.
Jennifer Tescher:
Did you really?
Jeff Jones:
I did. And just example, after example of as a leader, how do you put yourself in the shoes of your customer to literally see from their eyes how are you serving them and what problems are they experiencing that you might be able to solve that you're not currently working on today.
Jennifer Tescher:
I think that's so powerful. Say a little bit more actually about your customers. You have many and they're diverse, and not to mention small business customers. I think that a lot of us have some preconceived ideas of who we think your customers are, and we should probably try to bust some of those myths at this point.
Jeff Jones:
Yeah. I appreciate the way you ask the question, because like any very large business, you do have a very broad customer base. And depending on what channel they use us in, it's a little bit different. One of the things that's always surprising to people is if you just think about consumer tax preparation, and there is a part of the business which is we do all the work for you, and there's part of the business where you use our software and do the work yourself. I think there's a stereotype that all the young people do taxes themselves and all the old people must want help. That's the first myth I will bust. It's just not true. The little expression I use to say that is, "Just because you're tech savvy does not mean you are tax savvy." Actually about 50% of all of our new clients in a retail office are millennial, which is always very surprising to people. No one expects young people to walk into physical location, but in fact, they do a lot and it's because of the nature of the topic.
We say, we serve Main Street America, whether you're a consumer or a small business owner. And that's just a shorthand way to think about … That archetype for us is it's a working family of two with children, they are not financially healthy generally, but they don't view themselves in trouble. This is what is remarkable about the resilience of people is it'd be easy to judge them and think, "My gosh, how do they get by? I mean, look at what they make, look at how they live," but that's not how they view their lives at all. I think when you're out with the customer a lot, you remove your own judgment and you listen how people talk about their lives, their dreams, their struggles. But Main Street America, mom and dad, both working, maybe more than one job each, average income AGI $50,000-ish, and they are doing what they have to do to create livelihood for their families.
Jennifer Tescher:
You mentioned a minute ago that the average customer isn't particularly financially healthy. You're talking to me and I run an organization called the Financial Health Network, so I appreciate that reference, but I suspect that there's more to it than that, that this concept of financial health or financial wellbeing is in some way animating the work that you're doing as you introduce Spruce and as you look to really leverage your assets in the financial services part of your business. I wonder if you could say more about how you're thinking about that.
Jeff Jones:
Yeah. Again, when you're speaking in averages about individual people's financial health, it gets a little tricky. I am going to generalize, but I know that can be dangerous to do. I think one of the starting points is that people have a fundamental belief that it's hard to become financially healthy or to have better financial practices. In large part, I hear customers think it means I just have to make a lot more money. So a starting point for us is to remove the mystery about the simple things you can do to start building better financial habits. It was what I was taught as a kid. I mean, I didn't grow up in a household that was wealthy by any stretch, but pay yourself, put a little bit in savings. I think that's why in Spruce, we automatically open a savings account for you when you open the checking account. And how easy we make it to set savings goals. In our Spruce rewards product, the cashback you receive automatically goes in savings.
So those are very small little things if you look at them individually, but I think the spirit of it is how can we make it easy to just get started and build those rituals and build those behaviors. And the next thing you know you're actually on your way to something that you may have thought wasn't possible.
Jennifer Tescher:
Yeah. What I love about what you just said is it's not hand-wavy about the importance of financial health and this is an important out of our brand promise. It may be, but I love the fact that you gave specific, tangible examples of the do, of what you're doing to enable your customers to empower themselves. I think that's great.
Jeff Jones:
You and I have talked about this before. The real underlying structural challenges that exist in the country are big and complex and real and certainly one company can't solve those. I think that I was able to give you some specifics, because we've thought for ourselves in the context of those other things, how do we use our voice to advocate for structural changes, and then how do we use our resources to actually do different things? That's very much how we try to think about it.
Jennifer Tescher:
Well, let's put a pin in the structural changes, because I want to come back to that. You did just mention a moment ago, you referenced your own growing up, your own experiences. I think you grew up in a small town in West Virginia, right?
Jeff Jones:
I did.
Jennifer Tescher:
Parents were entrepreneurs?
Jeff Jones:
Yeah.
Jennifer Tescher:
And we know that the road for entrepreneurs is often rocky. Talk to me a little bit about how your experiences in growing up and in your family have influenced either your leadership or the way you're thinking about this work at Block.
Jeff Jones:
Yeah. I'm actually glad you asked that question. It's a very personal question. I guess when I answer it, I just want a caveat again, that I enjoy a lot of luxury as a wealthy public CEO. I'm always hesitant to talk about this part of my life because, for people that don't know me, it could be judged as very disingenuous. I know what I have today, and I know the starting point. I also know how I was raised and I know what my family does and thinks about today. I would describe my parents and my financial upbringing, we weren't in poverty. I had parents that owned mom and pop small businesses. We had months and years of success. And you may also have read that we went bankrupt when I was in high school and lost everything.
I remember those moments when I turned 16 years old and my parents felt so ashamed of the fact that we had gone bankrupt and they tried to shield it from us as kids a little bit. It was obvious. We had to move and all those kind of things. My dad didn't tell me until much later. For my 16th birthday, he bought me a car. It was a 1972 Chevy Impala that he borrowed $1,700 from one of his brothers to buy for me. It was an example of, he was ashamed of our circumstances, he wanted to protect me from really knowing, he wanted that 16th birthday to be the dream that kids fantasize about, but he had to borrow money from his brother to make that happen. To this day, when I look at any of my family members, they work hard. They do what it takes to pay the bills and provide for their families. Nothing is given to them.
I think, again, as much as I enjoy and know my life today, when I'm on the road, when I listen to customers, there is a big part of me that can relate to that feeling. So I think I'm now in a position to do something about that and to not just reflect my experiences, but our customers' experiences and say, "Wow, we can do something to help people." I think that's an awesome responsibility. That's a little bit of the personal side and where that comes from.
Jennifer Tescher:
I really appreciate you sharing that. It strikes me that relative to the other leadership roles you've played in your career, this one, in particular, especially lends itself to tackling some of these issues.
Jeff Jones:
It's a big part of why I joined Block. I thought I had some relevant skills to bring. I was very attracted by transformation. I said very publicly when I joined the company that this is one of the only jobs I've ever had when I wasn't trying to convince people to buy something they don't need. We really offer a service. This company is purpose and relationship grounded, and that does make it really, really easy to come to work.
Jennifer Tescher:
I'm glad you brought up purpose. That's a big focus these days in corporate America. We've talked a lot about that as it relates to customers, but how do you think that shows up for your employees? I'm curious to know how you think about that not just because of the moment we're in where this is a very big topic, but if I understand it correctly, a pretty sizable chunk of the people who are in the stores during tax season are almost like gig workers in the sense that they're not year round employees. How do you think about that? How do you think about this important purpose as it relates to your people?
Jeff Jones:
A few different pieces in your question, but let me start with we are a company that had a founder, two founders, two brothers, Henry and Richard, and literally from the beginning they thought about their purpose. Well, like any company does over many decades, that becomes diluted, founders go away, they're not involved in the business, new CEOs come and go. When I arrived here, my first year at Block, I went to probably 50 different cities around the country. I would just ask anybody, franchisees, company, why do you do this? Why are you here? What really struck me was nobody talked about taxes. Nobody. I didn't hear any stories about tax preparation. Everybody talked about providing help. They told stories about I've been working with this family for 10 years. I've seen their kids born. I've seen the divorce, the marriage, the college, whatever it is.
At that time, we didn't have an expression of a purpose statement. The first thing I did was with a couple of my colleagues, I called in Tom Block, who's Henry's son, to try to channel Henry's view of purpose, because I wanted us to re-express our purpose, but I didn't want it to be like the new CEO's purpose.
Jennifer Tescher:
Right. How involved, if at all, is the son of the founder?
Jeff Jones:
Not involved at all. Uninvolved in the company and haven't been involved for years, but I knew that whatever purpose statement we wrote, in my words, I wanted to rediscover our purpose. So we did. In that statement that everyone knows is to provide help and inspire confidence in our clients and communities everywhere. Today, that is how we think about why we're here. Just providing help isn't enough anymore. But that idea that when you interact with us, your tax professional, your business advisor, you are going to gain confidence that you're on the right track, you know what to do, you're smarter about your financials.
You're right; we've got between company and franchise about 80,000 seasonal workers, gig workers that join us every year to serve clients. That common starting point every year is that purpose statement, and the thing I love is they embrace it because it's true. We've rediscovered who we are at our best. It's not Jeff's new purpose statement as CEO.
Jennifer Tescher:
How is Block experiencing the great resignation, the worker voice, the protests? This is such a pivotal time for you. Tax season isn't all year long. So how are you experiencing that, and what are you doing to make sure that your employees have not just purpose, but frankly, what they need to be able to afford inflation and live their lives successfully?
Jeff Jones:
Yeah. Anybody that knows our strategy will tell you from day one, talent and culture have been the first pillar of our strategy, even before customer. That's a reflection of trying to create an environment where people feel safe to be who they are. They're inspired to be here. They're connected to something more than their job. We have an incredible philanthropic effort we call Make Every Block Better. Our platform on diversity is called Belonging at Block. Those kind of things are essential to culture.
We have definitely lost people in the great resignation for sure. We experience, I think what many companies are experiencing, the number of people who are just in this moment of history saying, "I just need to pause and regroup. I need to take time off and rediscover what I love." And we're losing people who can work remotely. But as I remind the team all the time, we've hired hundreds of people in this process as well. So we're definitely losing people, but the strength of our culture and the momentum of our transformation is also helping us attract people who don't live in Kansas City but are joining Block.
Jennifer Tescher:
Got it. Let's come back to something you said earlier about the fact that there are some structural challenges that get in the way of people's financial health. Business obviously has a very important role to play, ensuring up the financial health of their workforce, or in some cases, their customer base, depending on what they do for a living. We both know they can't do it alone. Government's got an important role to play. You have a real interesting vantage point on this, because you're essentially a distribution channel for the government, both helping people prepare their taxes, which is a government requirement, but then as a way to help people claim various credits, tax credits, as an example, like the earned income tax credit or the expanded child tax credit, which we know expired at the end of last year. I think at one point in the past, you were involved in helping families fill out their financial aid forms for example. I know Block has experimented in a variety of ways with giving advice and guidance.
How do you think about this balance between the role of government versus corporate America in solving these big challenges of our time and thinking about financial health?
Jeff Jones:
Yeah. A couple things instantly come to mind when you ask that. I don't think it's any surprise that most Americans believe government is failing them. It may be a surprise. I don't know how familiar your listeners might be with something called the Edelman Trust Barometer.
Jennifer Tescher:
Yeah. My head went right there.
Jeff Jones:
Yeah. We can just see longitudinally over, I think they've been doing that study for 21 or 22 years now. You can just see the erosion in trust of those established institutions, and you can see the rise in trust, now it's not super high, but your employer and your CEO being a more trusted institution than any of the things that I knew I trusted when I was growing up. I think that means we have to lean in more.
I'll give you a specific example of this. In the tax business when people hear lobbying, I think a lot of times it seems sleazy and companies doing things that are not in the public's interest. We very proudly lobby against two things in tax. It's not to keep taxes more complex. That gets written about. We've never spent a dollar lobbying to keep taxes more complex. We do lobby on things like the government should have a minimum standard of what it takes to be a tax preparer, because there's enormous fraud in the system, and there is no certification required to be a tax preparer. We don't think that's right.
That's an example where we're using our platform with state and federal governments to say, "You understand that there's fraud in the system. Well the key reason there's fraud in the system is you have to have a license to cut somebody's hair; you don't have to have any license to do tax preparation. That doesn't make any sense." Then it comes back to what I said earlier, which is we can use our platform to advocate, but then it's what can we do? That might be everything from me personally taking a stand on racial inequality, or it might be the company saying we need to offer financial products that have no fees or interest like our refund advance so people can get their tax refund early. I think we've got to do all three of those things; me, the company, and use our platform.
Jennifer Tescher:
Yeah. Jeff, you have been really open about your admiration for other CEOs and brand leaders across industries that are doing great work and are really centering the customer. Tell us who are those leaders that you admire right now?
Jeff Jones:
I'll give you some names and I'll apologize to those that I love that I'm not going to name because we can't name everybody.
Jennifer Tescher:
It's like an Oscar speech. I'm going to have to play the playoff music, right?
Jeff Jones:
Exactly. Exactly. I'll give you a few. Listen, these to me are about leadership, not just about business. The person who I talk about publicly the most, who is absolutely my hero is Oprah. And if you've heard me talk, no surprise, I'm going to start with Oprah from her story where she came from, how she thinks about education, how she's used her platform. I've learned so much from her.
Jeff Jones:
Controversially, because I know my audience and my location, Coach K at Duke University is one of the most incredible leaders I've ever been around; how he thinks about teamwork, how he thinks about evolving his approach in the modern world that connect with young athletes and how that's different than it used to be. I have incredible admiration for Satya Nadella and the transformation at Microsoft, and how they have put culture at the center of their transformation. Hubert Joly in his turnaround of Best Buy. I studied that transformation very, very carefully.
I think because I love teamwork and sports, I think about athletes like Simone Biles. Just somebody who has the courage to say, "I'm struggling," and how important that is as a leadership moment in today's world to show vulnerability and to use your platform to raise your hand and say, "Mental health is a real struggle for a lot of people; I'm going to try to make it okay to talk about."
Just off the cuff, those are some people that I pay attention to what they do.
Jennifer Tescher:
I could continue this conversation for hours, but I have to let you get to your stores so you can be a student of consumer behavior. So Jeff Jones, thank you so much for joining me on EMERGE Everywhere.
Jeff Jones:
So great to talk to you. Have a great rest of your week.