EMERGE Everywhere
Dalila Wilson-Scott: Leveraging Media for Positive Change
How can a global powerhouse of media and technology best leverage its resources to build a more diverse and inclusive workplace and world? Newly appointed Chief Diversity Officer at Comcast NBCUniversal, Dalila Wilson-Scott, takes that challenge on every day, in addition to leading the Comcast NBCUniversal Foundation and heading the company's community impact work. In this episode, Jennifer and Dalila discuss corporate responsibility, strategies for raising the bar on diversity and inclusion through policies and programs, and the role media can play in cultivating positive change.
Wednesday, February 10, 2021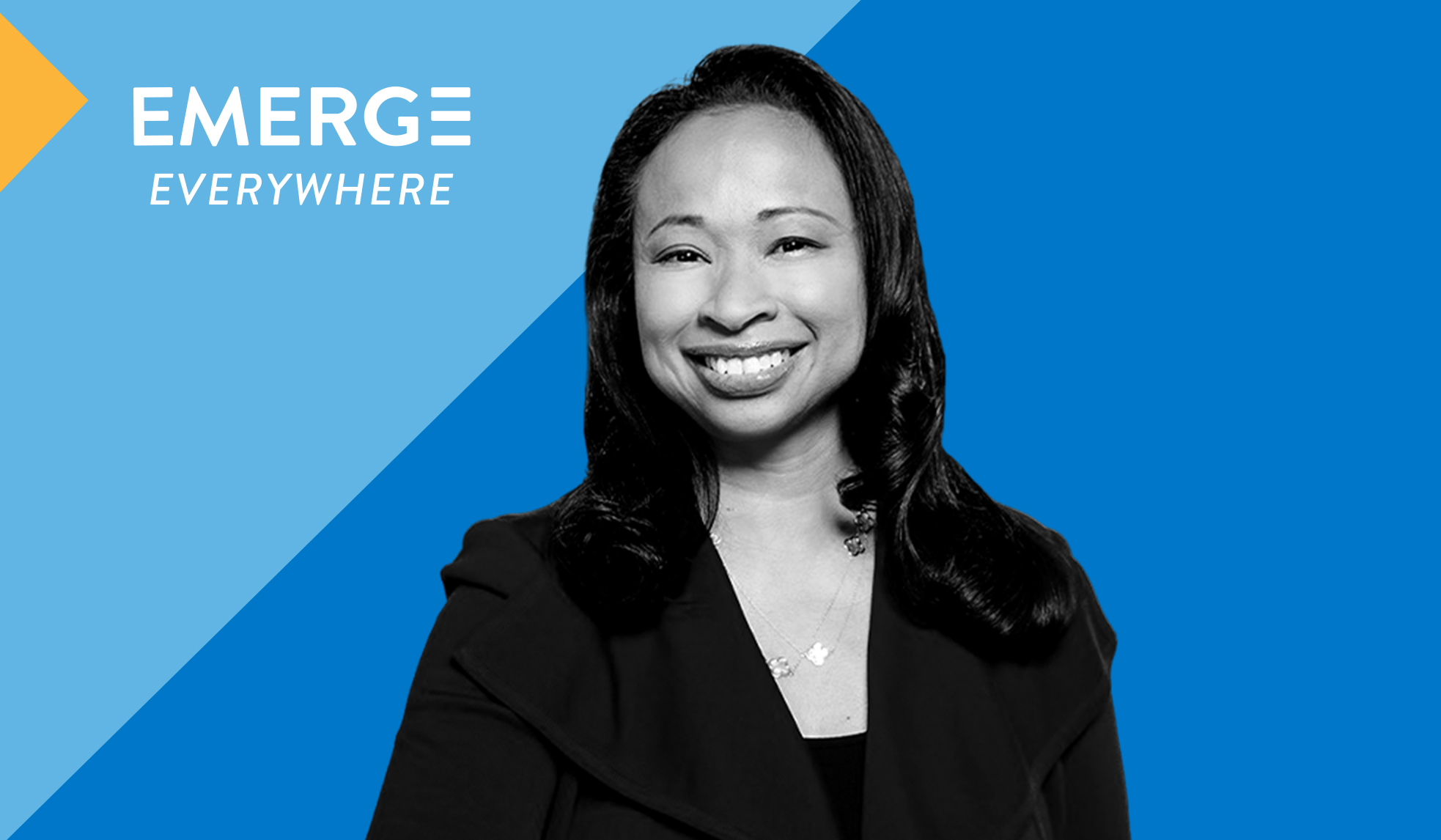 Dalila Wilson-scott
Dalila Wilson-Scott is Executive Vice President and Chief Diversity Officer of Comcast Corporation and President of the Comcast NBCUniversal Foundation. In this role, Dalila oversees all Diversity, Equity, & Inclusion initiatives and philanthropic strategy, including the company's $100 million commitment to advance social justice and equality.
Dalila joined Comcast in 2016 after more than 16 years at JPMorgan Chase & Co., where she served as Head of Global Philanthropy and President of the JPMorgan Chase Foundation. She earned an MBA in Finance and Management from New York University's Leonard N. Stern School of Business and a B.A. in Economics from New York University's College of Arts and Science.
Learn more about Comcast's community impact and check out additional episodes of EMERGE Everywhere.
Episode Transcript
Jennifer Tescher:
Welcome to EMERGE Everywhere. I'm Jennifer Tescher, journalist turned financial health champion. As founder and CEO of the Financial Health Network, I've spent my career breaking down silos by engaging with innovators across industries, and now, I'm sharing those conversations with you. Meet the forward thinking leaders challenging the status quo and unleashing creative new ways of improving financial health by seeing their customers, employees, and communities in 3D.
Comcast is a global media and technology powerhouse. It is the second largest broadcasting and cable television company in the world, the largest home internet services provider in the United States, and the nation's third largest internet home telephone service provider Comcast has many brands that we all know – NBC, Universal Pictures, Dreamworks – and the company is really known for bringing us great stories.
My guest today, Dalila Wilson Scott, is working to leverage Comcast's talent, technology, and media assets to make diversity, inclusion and corporate responsibility integral to the plot.
Dalila, welcome to EMERGE Everywhere.
Dalila Wilson-Scott:
Thanks for having me, Jen. It's been a while.
Jennifer Tescher:
It has. I'm so glad to see you. The last time we talked, Dalila, you were heading the Comcast NBC Universal Foundation and now, on top of that, you're also the new EVP and Chief Diversity Officer. And given the scope of Comcast's assets which I described in the introduction to this conversation, how do you even get your arms around the opportunity you have?
Dalila Wilson-Scott:
I mean, I've been here at Comcast for just about five years now. I feel like I'm still finding ways as technology evolves, as people really start to consume content in so many different ways, in so many different platforms, I'm still learning and continue to learn about how we're touching people. And I think what's great about my role and what I'm excited about is I have the ability to influence many different aspects of the company. Sometimes diversity can be force fit into a hole that is very siloed. And I'm fortunate to be in a position to have a purview into many different areas of the company, but also to create some internal pressure where we need to move forward.
I think what I'm encouraged by is the number of people who are awakening to just the issues that result from systemic racism, and that they can't be solved quickly. None of this can be solved quickly. As much as 2020 seems like a moment of racial reckoning, the truth is many of those injustices were happening, they just weren't visible. They just weren't being seen by everyone. And now you have a different awareness level, and quite frankly, a different attention level, an urgency to addressing these issues. And glad to be at a company that sees that too.
Jennifer Tescher:
So regular listeners of the show know that I see interconnections everywhere. I think everything is interconnected, and that if we really want to improve people's lives, we first need to understand people in all of their complexity by breaking down our mental silos and really seeing people in 3D. And in a way, that idea seems to be at the core of diversity and inclusion efforts, really seeing people in all of their diversity, in all of their complexity.
Tell us a little bit more about your new role as the chief diversity officer. Numerous companies have elevated the diversity function in their companies in the last six to nine months given recent events. Talk to me about how you see both the problem that you're trying to solve and the solution.
Dalila Wilson-Scott:
Sure. I came here to Comcast to lead up our foundation and really set a strategy from that perspective. Many corporate foundation presidents and community impact leads work very closely with diversity teams. That part is not new, but I think kind of combining the portfolio with intention is sort of a great way to be seeing the world, sort of how are we making our mark externally for communities that are underrepresented communities, that are struggling, as well as how are we building this culture?
I mean, I think people forget that core point you made, which is diversity, equity and inclusion practices is all about humanity. People want to be treated fairly. That's all we're talking about here, yet there's a lot of structural racism that hasn't always made that possible and certainly hasn't created an environment where those of us in multiple seats can challenge that behavior. Many of us have come to accept it. We hear a lot about bringing our whole selves to work, but people and the numbers would say this, surveys would say they don't feel like they can do that authentically. You're sort of living in this culture where you feel like you need to fit, versus you're being valued for your skill sets and your talents and who you are.
So I do think the basic premise of diversity is just about, it's fairness, it's humanity, it's treating people with respect. And I think what's tricky about it is all of us have to recognize in this moment, as strong as our cultures may be, as much good as we've been able to create, it has not been enough, period. And this is a great moment for us to kind of step back and think through how are we tackling issues externally for the most vulnerable populations? How are we making sure that our business practices, our philanthropy are in alignment with our values as a company, and that we don't have contradictions out there? And of course, how are we treating our own talent with the respect that they deserve and the value that they deserve?
Whether they're frontline workers installing Xfinity broadband in homes in our case, even though we're doing a lot of self-install because we have to take care of our staff, working remotely at home in a call center or working in a corporate office, employees in different functions with different skill sets need very different type of targeted development. But more importantly, they need opportunity and they need people to believe that they can do more.
And that's a huge issue. I mean, identity is a big issue in diversity overall. You need people to believe you can do more and you need to be positioned so you can do more. And it takes a lot of pieces to align for that to happen, but it is absolutely about basic humanity and respect.
Jennifer Tescher:
Right. Well, at a company like Comcast, it's playing out literally on a stage in front of millions and millions and millions of people. So there's the internal staff development, staff fairness, et cetera, but your product is so public, let's put it that way, right? That the way in which the diversity plays out and inclusion plays out, it's a tricky tightrope to walk because you don't have the opportunity to just go and make a plan and then go hopefully put it into action. Every day you're kind of tested on this, I would imagine. How do you manage that sort of every day, what did I watch on TV that day, as an example?
Dalila Wilson-Scott:
Well, I mean, you also have to think about the diversity of our audiences. We have people that will applaud that this is the most diverse cast we've had on SNL in a long time, but SNL appeals to a very specific type of audience and not necessarily everybody. We've been fortunate to have Cesar Conde take over leadership at NBC News earlier last year. He previously led Telemundo, has had excellent leadership roles across the industry. And he made a pledge to have 50% of our overall news team in front of, behind the camera, all aspects of news, which also includes CNBC and MSNBC, to be 50% people of color. There's no other pledge of that level in news at all.
And news is one of those areas where we needed to be unbiased and objective and of course fact-based. And there's so much in our democracy that depends on the integrity of journalism and it's great to work for a company that promotes that.
I think on the entertainment side, same issues, but different questions for sure. We have lots of different types of entertainment on our platforms, both on the NBC networks and the producing that we do for other companies. It's great to have new leaders in that space. We have Pearlena Igbokwe who is in charge of all of content under Universal. She's new to that role. She's been with the company for a while doing amazing things. She's making sure we have the diverse content on Peacock as well as NBC, as well as things we produced for NBC, for other networks, for Netflix, et cetera.
We have a platform on the Xfinity side called Black Voices, Black Stories. It's not just about telling Black stories, but making sure we are supporting and working with Black directors, Black production teams, and making sure that the right people are shaping the stories regardless of what underrepresented population is being talked about.
So it is interesting, although I would say the expectations are different of NBC and of Comcast, quite frankly, of the community, but it is absolutely onstage for everyone to see every single minute of the day.
Jennifer Tescher:
But you also just demonstrated how the changes that you all make in terms of how you do your business every day can really have significant systemic change, which is really exciting. Not every company can say that, not every company has the reach that you do.
Now, it really does seem like the company has been on a diversity and inclusion journey because, in addition to creating this chief diversity officer role that reports directly to the CEO, the company also made a hundred million dollar pledge to fight injustice and inequality. Tell us a little bit more about last year and how the company sort of has now arrived at this moment.
Dalila Wilson-Scott:
Of course. I mean, like many of us know, racism didn't start in 2020. And I would say our journey in the DEI space really got serious about a decade ago when we first acquired NBCUniversal.
So we started off with a number of very specific targeted commitments that we've grown in the past 10 years. And we were walking into 2020 with that incredible foundation, and then I think that moment, George Floyd probably the loudest one for many of us, where we had a chance to say, "Well, what do we do now? What should we do now?" was critical for our chairman and CEO, Brian Roberts, and quite frankly, leadership across the company.
And so that commitment, we wanted to do a couple of things. So one, we want it to be incremental to the work that we were already positioned to do. This wasn't a repackaging. This really was meant to be more, and not more of the same, but more in I would say a targeted way.
So first we started with areas where we knew we had to make a difference and where we brought expertise. So of course, any major commitment like this, you have to be thinking internally. We really wanted to speak to our employees. We've had company-wide, over 70,000 people participating in something we called D, E & I Day, which was really sort of a targeted moment to talk differently about implicit bias and how that plays out in the workplace, and I think more importantly, that diversity is a journey. Wherever you are, you have to meet people where they are, but you have to continue to press them forward. No one's ever finished with their diversity training, right?
Jennifer Tescher:
Correct. Correct.
Dalila Wilson-Scott:
It's something that all of us experts are not, are continuing to build upon. Language that's used today is quite frankly not language that was used 10 years ago. Even language used now. We all readily use the BIPOC language today. That was not something people said just a year ago. So language and having a common language is something we've talked about and trained a lot about too with our audiences.
The area where we probably made the biggest impact in the past decade has certainly been digital equity. We've been committed to closing the divide. It makes sense. We're the largest broadband company in the country. But in this moment, we wanted to be really thoughtful about what more could we do there and what would it look like?
So a big part of that commitment was, again, redoubling our efforts in digital equity, closing the divide from a product and service perspective, and obviously equipment was important, but this new commitment really sort of reaches into economic mobility. It's not enough for somebody to be connected. Is not enough for somebody to have basic facility. People really need to be proficient and beyond with a digital skill set if they want to make a difference from an economic perspective. And when you think about social justice, at the ultimate core of that, we're talking about economic justice. And I think that makes sense. And obviously you know that really well from the work you've done.
Small business, an area that we've been playing in, but it hasn't been core to who we are. So we're doing more in that space, launched a program called Comcast Rise across the country, where we're bringing media support, technology equipment, networking services, in addition to cash grants to really support the businesses that, quite frankly, were struggling before 2020, but in the midst of COVID, have really been faced with challenges they never seen. And we know that disproportionately affects BIPOC owners as well.
And of course, really bolstering what we're doing from a media and awareness perspective was a big part of what we wanted to do. And it goes without saying we wanted to call out social justice in particular and what could we do there supporting leaders like Bryan Stevenson at Equal Justice Initiative and the like.
So it was those five areas that we felt like we needed to make a difference, but also that we were uniquely positioned to make a difference. And that really was a conversation around our commitment, on top of everybody feeling very different about the moment and what it meant.
Jennifer Tescher:
So, as I mentioned, you report directly to Brian Roberts, the chairman and CEO, and we have seen other firms elevate that function to become part of the C-suite. Talk to me about how important you think it is for this work to be successful to be in the C-suite and to be sponsored by the CEO. And then talk a little bit about how that work then gets translated down to the call center rep or the installer, as an example? Given the breadth of the company, the size of the company, I suspect that may be the even harder part than coming up with the plans in the first place.
Dalila Wilson-Scott:
Yeah. I mean, people do get overwhelmed by the planning, but it is really all about the execution in any work, I would say, but certainly in the diversity space. I think even more important than reporting to the CEO and being part of the C-suite is that second part, which is the sponsorship of the CEO and the ability to have purview and influence across multiple areas of the company. I mean, we've, quite frankly, have seen this transition in CSR as well. There was a time where CSR or diversity would only be in HR, would only be in marketing. And by definition, it limited the impact that those teams have that still exist today.
So I'm thrilled to see this elevation in this space, but I would note it doesn't stop with C-suite representation. It really is about can that person, can my team effectively dig in across, up and down the multiple layers of the organization?
And that second piece about working with the different types of employees, especially frontline, frontline employees often feel left out of every major movement that a company can have for any number of reasons. I think that what has been an interesting kind of training in the background for us, or evolution in our practice, that it took a while, but we ultimately are in a good place around it is customer service. We were thoughtful about the way we entered into the space, and there had been several customer service initiatives before this most recent one that our frontline workers didn't feel a part of. But quite frankly, when you're in a business like we are and have a large retail presence, you need to be thoughtful about customer service. They are going to make or break what that looks like, and we know that firsthand.
So bringing them in to the planning process, as well as the execution process, answering those tough questions, those tough why questions, in addition to just laying out a plan and telling, like you have a legion of soldiers, this is about making people believe this is possible and giving them the tools to be part of the solution.
So I'm fortunate to have that as part of our own evolution to learn from. We clearly need to evolve from there. There are issues that will face a frontline worker that will never happen in the C-suite. There's commonality there, but we need to be targeted about the solutions we bring to the table, not just by your function, but also by your gender or ethnicity. People can often aggregate sort of, "These are issues that impact people of color or LGBTQ," but we have a lot more awareness quite frankly around intersectionality and we know that everybody's experience is different and we need to be thoughtful about that.
So that reach into the company is key, but you also sort of have to build… When you're making this type of culture transformation, it's not about one team, it's not about one C-suite leader, it's about your ability to carry that culture. And that's the inspirational work, the fun work, but it is certainly the hardest work to do.
Jennifer Tescher:
Yeah. Luckily the company has been such a pioneer in providing its employees with strong support around managing their physical health, and more recently, their financial health. I know that the company has been a little bit of a proving ground for some of the entrepreneurial companies that have come out of Comcast ventures. I wonder if you could talk a little bit about, particularly in light of the pandemic, your perspective now on what companies need to be doing to truly support their workforce in all ways? What's the responsibility of the company and what are some of the things that you're doing to really stand out?
Dalila Wilson-Scott:
Sure. I mean, I think it's been an interesting sort of broad scale experiment for all companies. I mean, the first is obviously making sure that companies have the technology and networking capability to support this type of environment. It's very different than when all of us or most are going into an office, and now, of course, being relegated for the most part to working remotely, how do you keep teams inspired? What's that glue when your only interaction is remote.
And that culture building has been interesting. And people approach it different ways. I think all of us going in for the most part thought of it as something temporary. So you were kind of making things work kind of real time. And then of course, a few months later, and even more months later, all of us are realizing there's much more permanent here than not. We're fortunate to be working with a company that's always put wellness first, because then I do think we can look at these issues holistically.
I think we also recognize that as many of us are working from home and have been able to work from home, many of our employees don't have that luxury. And so how do you think about equity in that sort of environment and what that means for a technician?
And we also were interacting with our customers differently, and that sort of forced us to change our practices. We wanted to introduce more people to self-install given the safety of our technicians, as well as the safety of our customers, and customers kind of latched on to that.
We also provided sort of $500 million in supports for employees over the course of last year to really get people through these difficult times and think about the type of development we could do going on. I do think that this environment for all of us has accelerated digitization, which means it accelerates both new roles and roles, quite frankly, that won't exist in the same way. So how do we think about re-skilling, whether it's re-skilling to remain at Comcast or re-skilling to remain relevant in an industry that's going to look so different in 10 years. None of us know what that environment is going to look like, but we know it's going to include a strong dependency on digital skill sets.
And so we've been looking at both external programs, as well as internal programs to help with that notion, as our customers are demanding more from us digitally, as we're trying to deliver more digitally.
Jennifer Tescher:
Yeah. Now, you mentioned digitization, and I want to bring the conversation back to what you were talking about earlier around broadband access, because boy, if there's anything we learned over the last year, it's that having a device, a phone, a computer isn't much good without access to broadband from home, and which lower income families, families of color are less likely to have. You're not new to this. You've been working on digital access for quite some time. I wonder if you could tell the listeners a little bit more about the scope of the challenge and what Comcast can do, but then what you think the incoming Biden administration or government needs to do?
Dalila Wilson-Scott:
Sure. As you mentioned, we've been talking about this issue for over a decade. And I think what 2020 has opened everybody's eyes to is how drastic this issue is. I think people really thought of it as an isolated rural issue. They weren't really clear what it would do to K-12 schooling for us to be remote and working and schooling from home.
So I am encouraged by the number of people and the number of times that digital inclusion was brought to the fore of the conversation. I'm also thrilled at the work we've been able to do, and 10 years of learning got us here.
I think what we've always known is in addition to sort of the lack of availability in cities around the country, urban metros around the country, not just rural areas, is that affordability is an issue, but it often is not the largest issue when it comes to broadband adoption. We're also seeing that there could be a trust factor. Do I trust someone coming into my home? Am I an immigrant and not necessarily trusting the information I might have to provide? Do I live in unstable housing? Is this not sort of a set apartment, a legal apartment? So I'm not able to have installation. There are many barriers to adoption, and many of them can be addressed through education and broader awareness, but these are the tough issues, right? This is about the last mile.
I think what we've been able to do is, throughout the year, we had sort of 60 days of free access for new Internet Essentials customers. Internet Essentials is our low cost broadband product. Also, gave thousands of people access to devices. Internet access is not useful if you don't have a device from home. We increased speeds last year so that our customers could have high-speed access. So you could have three, four or five kids at home or parents working and schooling remotely with video conference. And I think that's important. We also work with districts and cities and other foundations to take affordability off the table where it was an issue. So able to stand up a lot of those programs, quite frankly, before government dollars and stimulus dollars were even on the table.
To your point about the administration and these more recent stimulus bills, there's a lot more on the table that stress the importance and longer-term funding for connectivity, which I think will be critical for schools. I think also just schools and higher education and K-12 being able to adapt to this environment, how can you effectively deliver education? A teacher has to really flex in this year to keep people and young people engaged quite frankly, and that's a whole different skill set.
So there was so much focus on connectivity this year, but I think all of us realized painfully that there was loss in education quality and education delivery. And I think there has to be more attention placed on that on top of the connectivity issues. But I am encouraged by more support on connectivity because I think that's more long-term support.
We also know that low income families tend to be very mobile, and internet access in the home may not necessarily be the best path. So what does that look like? We're also investing in what we call lifts zones, a thousand sort of community-based centers and partners that we work with across the country to make sure there's commercial grade wifi available, to make sure education is available, quality education, quality proctors, and thinking differently about initiatives like working with Sage or working with Get Schooled, a different way we can bring online learning and online support to the table to supplement what's happening. It's difficult for adults to be on video conference.
Jennifer Tescher:
I will attest.
Dalila Wilson-Scott:
However many hours. You can only imagine if all of us were sitting back as our third, fourth, fifth grade, sixth grade selves and having to sit there and be taught this way. It is certainly not ideal. And I think we're going to have to move on the education front of that sooner than later.
But I'm encouraged more resources are available. It's always tricky of course. How do you allocate equitably? How do you make sure that the impact we're all trying to see is really being had? And I just want to make sure that people are focused beyond connectivity, for sure.
Jennifer Tescher:
Yeah, that's helpful. I think the racial awakening of last year, the reckoning has maybe made the things above the water more visible, but there's still all the things below the water's surface, and a big part of that is ingrained in our culture. And when I think about culture building and culture shifting, I think about the power of media. I think about television, film. You're no longer just a deliverer or a distribution channel, right? You're making your own content. And that feels to me to be such an incredible opportunity.
I think about the new show Bridgerton, which I don't think is one of yours, my apologies.
Dalila Wilson-Scott:
It's not. It's on Netflix. But you can get Netflix on Xfinity.
Jennifer Tescher:
Absolutely, you can, but how much buzz that show is getting and how interesting it is to cast historical figures in a colorblind kind of way, to intentionally put actors and actresses of color into roles where they wouldn't have actually probably had that kind of role, if you will, in real life hundreds of years ago. That's such a fascinating way to change the way people think or see other people. Talk to me about the power of your storytelling platforms and how do you really fully leverage their power?
Dalila Wilson-Scott:
Yeah. And I do think Bridgerton is a great case study for so many things. I think there have been in the past productions where everyone was replaced with a Black character, and that is very different I think than what we're all seeing in a piece, in a series like Bridgerton, and Shonda Rhimes has done that for many of our productions.
I mean, number one, it starts at who's actually bringing the pieces to life. So this year has been a great one for us because we've been able to talk about new partnerships we have with LeBron James supporting Ava DuVernay and her initiatives to really diversify the industry, all levels of talent, quite frankly, when it comes to directing and production, not just sort of the ones we see on screen, and bringing those diverse voices in to create different stories and to show them in different places. It's not like all diverse producers or directors only care about diverse stories. It's really about putting them in places where they can bring different perspective, quite frankly, to things that we know and love that evolve over time.
So it's something that we certainly don't take lightly. I think that we have a number of programs, in fact, that are industry leading that helps to support underrepresented directors, because it really is difficult. Everybody's a content producer at the end of the day, especially these days, but many people still yearn for the distribution that you can get when your film is on Focus or Universal or on a network channel. And that sort of dream still exists for a lot of directors and storytellers. And I think to be able to give people sort of that coaching and direction and bring them onto our platform sooner than later is one of the great ways that we can help change the narrative, if you will.
And again, there are multiple narratives that make up our culture, and there are many people that depends on NBC to deliver that at so many different levels. And it is one of the more exciting things we get to do, and it certainly doesn't happen overnight. But I think when you think of productions like This Is Us and what that story has meant to so many people and how so many different types of people can see themselves in that story, that at the end of the day, it's universal, right? It's a family that's come together, struggles, ups and downs, but different levels of conversation and touch points on race, on gender, on economic mobility that's kind of interesting for us all to witness and not see that as a Black story, but to see that as my story.
We're on the heels of Black History month, and for so many years, that's been their story for so many people. We really need to get to this place where it's our story and people embrace that, and that'll help create a better fabric for future stories as well.
Jennifer Tescher:
Right. It's a human story.
Dalila Wilson-Scott:
Absolutely.
Jennifer Tescher:
Yeah. So you said earlier, and I couldn't agree more, right, these challenges are hundreds of years in the making. They're not going to change overnight, but obviously you have to hold yourself and your colleagues accountable. So in the shorter to midterm, you pick the timeframe, what does success look like? How will you know if it's working?
Dalila Wilson-Scott:
There's a couple of things that I keep pointing to. I think number one, for the most part, everybody in America and many people around the world, there was no one who was immune to message and to the awakening. You might have different reactions to it, but everybody knew something was different. I think if we get to the end of 2021 and that's faded to the point of acceptance, and yes, that was then and we're all back to the P&L and not caring about humanity, that will be a big failure for our society, quite frankly. And I think that's something that all of us need to be focused on. We cannot let up on the momentum and we should be doubling down in this moment. And I think sometimes the further away you get from some atrocity, the further away people get from that urgency, that momentum they have felt as you think about the solutions.
So that's one. The other is there absolutely should and can be more transparency. You can't hold people accountable for something you don't know. And I do think having more transparency around these issues and the way that so many corporations and CEOs are stepping up in moments of crisis that aren't necessarily core to their business. We saw a number of CEOs, including our own, speak out and denounced the violence against the Capitol, suspend contributions to Republicans that were a part of that vote. I think that's important that corporations are taking a stand that would have been, quite frankly, unheard of, and not that very long ago. So that already reads that the accountability is there in a way that it hasn't been before.
And for private sector, for the most part, I would say that usually the accountability and transparency levels only increase. That doesn't typically pull back, which is great. But I do think in times, especially diversity, there's a healthy amount of skepticism out there about will this be different? Rodney King was not long ago.
Jennifer Tescher:
Oh wow.
Dalila Wilson-Scott:
But you remember. All of us witnessed that moment. Everybody felt something different, and yet and still things didn't change at the pace they could have and should have.
Do I think this moment is different? I do, but I think every moment like this runs the risk of being just that moment, as opposed to the movement that we're all seeking. So I think that increased transparency and accountability will get us there. But I do think that momentum is the biggest thing. We have to maintain focus on this.
Jennifer Tescher:
All right. That's a great way to end our conversation. Dalila, thank you so much for joining us on EMERGE Everywhere.
Dalila Wilson-Scott:
Thanks for having me, Jen.
Jennifer Tescher:
This has been EMERGE Everywhere, a Financial Health Network production. I'm Jennifer Tescher, and I'd love to hear your ideas for future guests and your reactions to the show. You can connect with me on Twitter @JenTescher. If you liked this episode, please review the show and subscribe wherever you get your podcasts. To learn more about the work and research we do, please visit emerge.finhealthnetwork.org. See you next time.